Megan Fox Opens Up About Protecting Her Son From Being Bullied For Wearing Dresses
by Erica Gerald Mason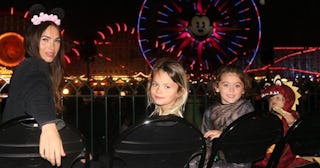 Megan Fox/Instagram.
The Transformers star got emotional while speaking about her son getting picked on at school for wearing dresses
Nothing makes a mama go more gangsta than when you come after her bebes. Do so at your own peril. But all that moxie protects a tender heart — our kiddos make us strong and incredibly vulnerable at the same time. Megan Fox wants to shield her kids from bullies at all costs.
Speaking with InStyle, Fox opened up about parenting her three kids — Noah Shannon, 8½, Bodhi Ransom, 7, and Journey River, 4½ — whom she shares with ex Brian Austin Green. The Jennifer's Body star teared up recounting how her son has been the target of "mean, awful people and cruel people" online.
"I don't want him to ever have to read that s— because he hears it from little kids at his own school who are like, 'Boys don't wear dresses,' " the mum says.
Fox, no stranger to controversy, is used to the criticism — but that doesn't mean it makes it any easier.
"This whole year I've been very surprised by how archaic some of the mindsets still are in some people," Fox admitted.
Fox's children clearly love their mama. While doing press for Till Death earlier this month, the actor got a surprise visit from her three kiddos when they crashed her Today with Hoda & Jenna interview. As their mum chatted, all three of her young children flitted through the background, trying to remain unseen as they moved out of the room.
Back in 2019, Fox appeared on The Talk and told the panel that Noah wears whatever he wants to school, including dresses, despite receiving negative feedback from his classmates.
"Sometimes, he'll dress himself and he likes to wear dresses sometimes," Fox said at the time. "And I send him to a really liberal, hippy school, but even there — here in California — he still has little boys going, 'Boys don't wear dresses,' or 'Boys don't wear pink.'"
"So we're going through that now, where I'm trying to teach him to be confident no matter what anyone else says," she added.
"He just wore one two days ago to school, and he came home and I was like, 'How was it? Did any of the friends at school have anything to say?'" recalled Fox. "And he was like, 'Well, all the boys laughed when I came in, but I don't care, I love dresses too much.' "
It seems Fox wants to break the cycle with her children, telling InStyle, "I had to armor up so much inside myself, and I had to be so tough to have to process this really crazy heavy price for what I thought was doing the right thing."
"I had this breakthrough, and I realized that I had been living in a self-imposed prison for so long because I let other people tell me who I was or what I wasn't," Fox continued. "I hid because I was hurt."
Here's to mamas who let their kids figure out their own path in life.