Megan Rapinoe is a star athlete, social justice warrior, and overall legend
U.S. women's soccer team co-captain Megan Rapinoe is undeniably having A Moment in history right now, and it's amazing to watch unfold. Starting with her honest, IDGAF attitude about visiting the White House to last night's interview with CNN's Anderson Cooper (not to mention the fact that she's her winning team's top scorer), it's impossible not to love her.
She confirmed that the team has yet to receive an invitation to the White House — a standard invitation extended by presidents to winning U.S. sports teams through the years. She and her teammates aren't exactly bothered by this, however: "I don't think anyone on the team has any interest in lending the platform that we've worked so hard to build, and the things that we fight for, and the way that we live our life — I don't think that we want that to be co-opted or corrupted by this administration," she said.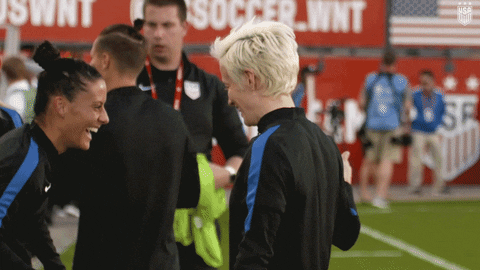 Athletes who use their platform to shine a light on social justice issues are true heroes who know what they're doing. Rapinoe has been public about her stance on everything from kneeling for the national anthem to civil rights for marginalized communities, and she's not stopping anytime soon.
In fact, she delivered a direct message to Donald Trump while on-air with Cooper last night. And it is everything. Here's what she said when she was asked if she had anything to say to the president:
"Your message is excluding people. You're excluding me. You're excluding people that look like me. You're excluding people of color. You're excluding… Americans that maybe support you."

USWNT co-captain Megan Rapinoe's message to Pres. Trump. https://t.co/MME9lAZEp9 pic.twitter.com/YMRZKe4538

— CNN (@CNN) July 10, 2019
"I think that I would say that your message is excluding people. You're excluding me, you're excluding people that look like me, you're excluding people of color, you're excluding — you know — Americans that maybe support you." And as for Trump's 2016 campaign slogan, "Make America Great Again," Rapinoe isn't having any of that, either.
"I think that you are harkening back to an era that was not great for everyone," she continues. "It might have been great for a few people, maybe America is great for a few people right now but it's not great for enough Americans in this world and I think that we have a responsibility — each and every one of us, you have an incredible responsibility as — you know — the chief of this country to take care of every single person and you need to do better for everyone."
All of this is utterly perfect, spot-on, and sure to ruffle Trump's super fragile feathers. And it also validates her earlier statement (which went viral because the entire world is falling for Megan Rapinoe and her blunt approach right now), where she makes it clear she's not going to the f*cking White House.
"I'm not going to the fucking White House." – @mPinoe pic.twitter.com/sz1ADG2WdT

— Eight by Eight (@8by8mag) June 25, 2019
Basically, Megan Rapinoe is a legend and all of social media is here to stan.
Megan Rapinoe has done more for American greatness than Donald Trump has his entire presidency. pic.twitter.com/KfvrZWPDHI

— Abby Carter (@abby__carter) July 7, 2019
Bring this same energy tonight for the @ESPYS, @mPinoe! pic.twitter.com/OCGCUEMTU2

— ESPN (@espn) July 10, 2019
I ❤︎ @mPinoe. Listening to her talk to @AndersonCooper about home runs (and many topics of FAR greater significance) right now is making my heart soar. THIS is the best of America. Bravo @USWNT! Now, #EqualPay + all else that they inspire, deserve + we will work to make happen!

— Erin Schrode (@ErinSchrode) July 10, 2019
.@andersoncooper is all of us as he's talking to @mPinoe right now: starstruck and giggly. pic.twitter.com/bhlD4qLBgE

— Molly Hirschbeck Acton (@MollyHirschbeck) July 10, 2019
@mPinoe being an open gay woman discussing the journey of becoming herself on CNN was incredible. I pray more individuals with subordinated identities can see themselves on a platform like that, but it's going to take more time. Thank you, Megan. #Rapinoe

— Amy Haggard (@AimesHags) July 10, 2019
Regardless of what he tweets or how he pretends to feel about the U.S. women's soccer team and Rapinoe herself, we all know Trump is watching the country elevate her message and cheer her on. Knowing he's likely seething over every second of it is a far better reality than a Big Mac-fueled White House visit. Hands-down.