Megan Rapinoe And The USWNT Are Now Invited To The House And The Senate
by Christina Marfice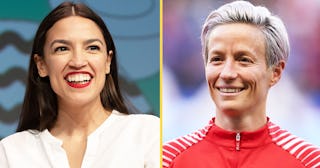 Jim Bennett/Quality Sport Images/Getty
Megan Rapinoe just got two invites that are way better than the White House
If you didn't know who Megan Rapinoe was before this month, you weren't alone. But the captain of the U.S. Women's National Soccer Team is now a household name, due to both the team's success in this year's World Cup (they're now in the semi-finals and heavily favorited to win the Cup), and because of Rapinoe's use of that platform for her no-holds-barred, feminist AF activism. She's described herself in the past as "a walking protest," and she's not letting her time in the spotlight go by without taking her fight for social justice straight into the public eye.
Part of that included saying she would decline if President Donald Trump invited her and her teammates to visit the White House. While it's customary for successful American sports teams to get that invite, several teams have refused to go because of Trump's racism, sexism, bigotry, etc., etc. Trump responded by putting Rapinoe on blast on Twitter, his usual medium of choice, basically telling her to shut up and win. She is doing that, thank you very much.
But while Rapinoe and her teammates apparently won't be gracing the White House with their presence, they have a couple way better options on the table. Alexandria Ocasio-Cortez responded to the controversy by extending an invitation for Megan Rapinoe and the entire USWNT to visit her in the House of Representatives and take a tour.
LOL at anyone who thinks choosing between hanging out with Donald Trump, an accused rapist who makes vulgar comments about women and minorities on the regular, or AOC, who is actively fighting her ass off to make the world a better place for women, people of color, and all humans, would even be hard. AOC all the way for us, and it seems like Megan Rapinoe agrees, because she readily accepted the invitation.
And while visiting the House and meeting a rising star Representative like AOC would be pretty freaking rad on its own, another lawmaker stepped in to sweeten the pot. Democratic Presidential Candidate (and debate standout) Kamala Harris joined the conversation, tweeting that while Rapinoe and the USWNT are in Washington, they should stop by the Senate and hang out with her, too. Dreams. All our dreams.
If this all actually happens, it will be a gathering of truly powerful women. The USWNT is one of our country's most successful sports teams, with three World Cup titles already under their belts, and a fourth very possibly on the way. AOC is the youngest ever female member of Congress and an all-around badass who holds politicians responsible for their words and actions and advocates for policy that will stop climate change. And Harris is one of the strongest, most competent candidates for president in the crowded Democratic field, and gives us hope that after the nightmare that was the 2016 election, maybe this country can finally elect its first woman president.
Megan Rapinoe, just make sure you post lots of photos when you meet these other inspiring women. We're gonna need them for all our vision boards.