You'll Be Team Meghan & Harry Forever After Watching This Horrific Oprah Interview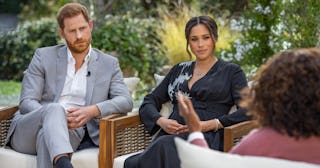 Harpo Productions/Joe Pugliese via Getty Images
Meghan Markle and Prince Harry dropped some major truths during their much-anticipated interview with Oprah Winfrey
To say that Meghan Markle and Prince Harry's interview with Oprah Winfrey was shocking is the understatement of the century. The pair shared a number of stunning and heartbreaking revelations that will no doubt leave the Royal Family — and the world — reeling for years to come.
Let's dive right in to the biggest bombshells to come out of the couple's sit-down interview with Winfrey.
The Palace had "concerns" over how dark Archie's skin might be.
Meghan revealed that the Palace had "concerns and conversations about how dark his skin might be when he's born. … and what that would mean or look like." She declined to reveal who specifically had that conversation with Harry saying it would be "too damaging" to them. "I think that would be very damaging to them," adding, "That was relayed to me from Harry. Those were conversations that the family had with him." When Harry joined the second half of the interview, he also declined to reveal further details about what was said — or who said it.
Kate Middleton made Meghan cry, not the other way around.
Before the big wedding, there was a story at the time that Meghan made Kate Middleton cry during the planning of the ceremony.
"The reverse happened," Meghan says when Oprah asked about the tabloid claims that the future sisters-in-law got into a fight that resulted in tears by Kate.
"And I don't say that to be disparaging to anyone, because it was a really hard week of the wedding. And she was upset about something, but she owned it, and she apologized. And she brought me flowers and a note, apologizing. And she did what I would do if I knew that I hurt someone, right, to just take accountability for it," she says.
Harry and Meghan secretly got married 3 days before the royal wedding ceremony.
"Three days before our wedding, we got married," Meghan tells Oprah, revealing the ceremony took place in their own backyard three days before the official May 2018 ceremony.
Meghan reveals she had thoughts of suicide during her first pregnancy.
Amid negative and racist British press coverage, Meghan felt helpless while pregnant with Archie. "I just didn't see a solution. I would sit up at night, and I was just, like, I don't understand how all of this is being churned out," she told Oprah. "I realized that it was all happening just because I was breathing. I was really ashamed to say it at the time and ashamed to have to admit it to Harry, especially, because I know how much loss he's suffered. But I knew that if I didn't say it, that I would do it. I just didn't want to be alive anymore. And that was a very clear and real and frightening constant thought."
Meghan says she "didn't know who to even turn to" and reveals that one of the people she reached out to was one of Diana's best friends. "Who else could understand what it's actually like on the inside?" says Meghan.
Meghan tried getting help from the Institution but they denied her. "I went to one of the most senior people to get help. I share this because there are so many people who… are afraid to voice that they need help, and I know personally how hard it is to not just voice it, but when you voice it say no," she says.
"[Going to a hospital] is what I was asking to do," she says. "You can't just do that, I couldn't call an Uber to the palace, you couldn't just go. You have to understand…that was the last time I saw my passport, my drivers license, my keys. All that gets turned over."
Their baby is a girl, due in the summer time.
The couple revealed that their second baby is a girl and she's coming later this summer. They also shared that "two is it" and they don't plan on having more children. "To have a boy then a girl — what more can you ask for?" Harry said.
Meghan and Queen Elizabeth get along very well.
Meghan shares that her relationship with Queen Elizabeth has always been "warm and welcoming" with the Queen gifting her special jewelry.
Meghan feels she was a victim of "character assassination."
The ruthless British tabloids and the desire of the Institution to control the way it's perceived in the media more than anything else meant Meghan wasn't defended by her new family. "They were willing to lie to protect other members of the family, but they weren't willing to tell the truth to protect me and my husband," she said.
Meghan and Harry leaving wasn't "a bombshell" to the Queen as tabloids claimed.
The couple said they were discussing stepping back for two years, despite reports that the Queen was blindsided by the news.
Harry shares that he had three conversations on the matter with Queen and two with his father, Prince Charles, "before he stopped taking my calls." Harry explains that in the end, he took matters into his own hands to take care of his family and their mental health. "I could see where this was headed," he says.
Harry and William aren't super close at the moment.
"The relationship is space," Harry tells Oprah. "At the moment. And you know time heals all things. Hopefully."
Meghan shared her big regret.
"Believing them when they said I would be protected," was Meghan's reply when Oprah asked if she had any regrets.
The couple wrapped the interview sharing that they're now very happy in their new home with their son and a baby girl on the way. God knows they deserve it after everything they've been through.
This article was originally published on