The First Look At Harry & Meghan's Oprah Interview Is Here & It's... A Lot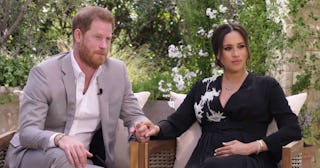 CBS/Youtube
Two trailers were released ahead of Harry and Meghan's interview with Oprah set to air on Sunday
Meghan Markle and Prince Harry sat down with Oprah Winfrey for a real, raw 90-minute interview special, which will air next Sunday on CBS.
In it, the Duke and Duchess of Sussex will speak candidly for the first time since stepping back from their royal family responsibilities, and by the looks of the trailers that were just released, it will be intense. "I just want to make it clear to everybody. There is no subject that's off limits," she says in the trailer and Meghan nods sincerely.
Winfrey asks her at one point, "Were you silent or were you silenced?" in relation to her relationship with the royal family — one that's sparked rumors since the couple decided to leave the U.K. and set up a home in the U.S. with their son, Archie.
Meghan and Harry recently announced that they're pregnant with their second child, a rainbow baby after revealing that they'd suffered a miscarriage in 2020. "'Almost unsurvivable'? Sounds like there was a breaking point," Winfrey says later in the trailer, then later says, "You've said some pretty shocking things here." While Markle didn't speak in the trailer itself, it sounds like she may finally give some answers to what exactly happened to her while she lived with the family after she and Prince Harry were married.
Later, Harry was presumably asked about why they stepped back from their roles. His answer in part: "My biggest concern was history repeating itself," he said, referring to his later mother Princess Diana. He added that he "can't imagine what it must have been like" for his mom all those years with the unwanted, constant attention, ultimately leading to her death following a paparazzi car chase.
In a second clip, he continued: "You know, for me, I'm just really relieved and happy to be sitting here, talking to you, with my wife by my side," adding that he can't imagine what it was like for his mom to do this alone. "It has been unbelievably tough for the two of us, but at least we have each other."
Diana separated from Prince Charles and was shunned by the royal family after their divorce in the 1990s. She died in a car crash in 1997, and the Prince has frequently blamed the intense media coverage as contributing to her death.
Prince Harry was also recently a guest on the Late Late Show With James Corden and talked a bit about their experience.
"We all know what the British press can be like, and it was destroying my mental health," he told Corden. "I was like, this is toxic. So I did what any husband and what any father would do."
Although this looks like a difficult interview, it may be one they can finally clear the air and move on with their royal-free lives.
This article was originally published on