You Can Hear Archie's Adorable Accent In Meghan & Harry's Holiday Podcast
by Julie Scagell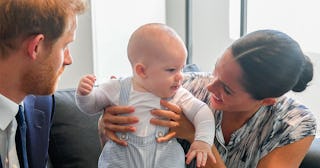 Toby Melville/Samir Hussein/WireImage/Getty
Baby Archie made a guest appearance on Meghan Markle and Prince Harry's holiday podcast and his tiny voice is too cute
We all want 2020 to be over as fast as humanly possible and to never speak of it again. Unfortunately (but also, fortunately), Meghan Markle and Prince Harry just released an Archewell Audio holiday special with a ton of amazing guests reflecting on the year and now we just have to get sucked back in.
The couple signed a multiyear partnership with Spotify, produced in collaboration with Gimlet, and in this most recent special, they get candid about how 2020 went for them and also their hopes for the future. The best part? Little Archie introduces the special and his tiny baby voice and laugh will have you hitting the rewind button about a hundred times. Plus, he seems to have picked up Harry's accent and omg hold me now.
The couple use the time to reflect on what this year has meant for them and all of the changes they've been through. They also have a ton of famous people who weigh in on their year, offer advice, and hopes for the future and the list is impressive. Stacey Abrams, Naomi Osaka, Rachel Cargle, Elton John, Tyler Perry, Christina Adane, George the Poet, José Andrés, Hussain Manawer, Brené Brown, Deepak Chopra, Matt Haig, and James Corden just to name a few.
"We thought, what if we can bring together some people that inspire us—people that we admire… and get their thoughts on what they learned from 2020," Markle says to open the Spotify show. They went on to talk specifically about the pandemic and its impact on the world.
"We're glad you're here. As we all know, it's been a year. And we really want to honor the compassion and kindness that has helped so many people get through it," Harry says. His wife continues: "And at the same time, to honor those who have experienced uncertainty and unthinkable loss. Our thoughts have been with you, especially during this holiday season. We also want to thank healthcare workers, frontline service workers, and so many others for their sacrifices."
As the show wraps up, the husband and wife offer a sense of hope for what 2021 may bring. "No matter what life throws at you guys, trust us when we say, love wins," they say, then play a song that means a lot to them. "'This Little Light of Mine' played at the very end of our wedding…while we were walking down the steps of the church," Markle says. "It was the music that we wanted playing when we started our lives together. Because as we all know, 'darkness cannot drive out darkness, only light can do that.'"
This reflection on 2020 is most definitely worth the listen. The podcast is available now on Spotify.