Meghan Markle And Prince Harry Pose For First Magazine Cover Together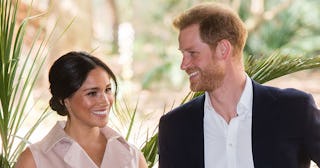 Samir Hussein/WireImage/Getty
Meghan Markle and Prince Harry stun on the cover of Time's "Most Influential People" issue
Meghan Markle and Prince Harry have been named as two of Time magazine's "Most Influential People" of 2021, gracing one of the magazine's seven covers with a stunning portrait of the pair.
This is the first time the couple have posed together for a formal magazine cover. The Duchess of Sussex, donning a white blouse and trousers, looks radiant as Harry stands in all black behind her. The magazine feature for the cover was written by World Central Kitchen founder José Andrés. The three have worked together several times over the past couple of years in an effort to fund and stock food relief centers in disaster zones like Haiti and New Orleans.
"Springing into action is not the easy choice for a young duke and duchess who have been blessed through birth and talent, and burned by fame," Andres wrote. "It would be much safer to enjoy their good fortune and stay silent. That's not what Harry and Meghan do, or who they are. In a world where everyone has an opinion about people they don't know, the duke and duchess have compassion for the people they don't know. They don't just opine. They run toward the struggle."
Andrés also wrote about the work they are doing through their Archewell Foundation, named after son Archie. "They give voice to the voiceless through media production. Hand in hand with nonprofit partners, they take risks to help communities in need — offering mental-health support to Black women and girls in the U.S., and feeding those affected by natural disasters in India and the Caribbean," he wrote.
The pair had quite a rollercoaster ride since officially stepping down as senior members of the royal family in January 2020, but always manage to land on top. In addition to launching Archewell, they signed a multiyear deal with Netflix and Spotify, and sat down with Oprah for a bombshell interview about their decision to leave the UK. They also welcomed their daughter, Lilibet "Lili" Diana Mountbatten-Windsor, in June.
Following the announcement of their spot on the top 100 list, Harry and Meghan wrote a note of gratitude on their Archewell website, and talked about how honored they were to write the piece for another list member, Dr. Ngozi Okonjo-Iweala.
"Prince Harry and Meghan, The Duke and Duchess of Sussex, are not only humbled to be part of this year's TIME 100 through the words of friend and partner José Andres, but to also write in praise of Dr. Ngozi Okonjo-Iweala for the publication's annual list of Most Influential People," their statement read. "Since becoming the Director-General of the World Trade Organization in March, Okonjo-Iweala has astutely been hailed for the groundbreaking nature of her appointment to the role; the first woman and the first African to assume the position. What further sets her apart, and makes her leadership all the more trailblazing, is her ability to see the COVID-19 pandemic as a crisis with significant implications for both health and economic security."