Meghan Markle Is Making Royal History By Walking Herself Partway Down the Aisle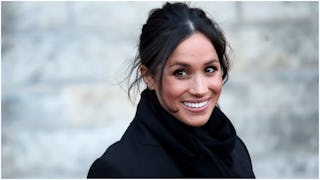 Image via Chris Jackson/Getty
Meghan Markle is walking herself halfway down the aisle
Need one more reason to be completely, overwhelmingly excited for the upcoming royal wedding? Well, we've got it for you. Meghan Markle is going to walk herself halfway down the aisle and won't ask a man to give her away at the alter. This is the first time in UK royal wedding history that a bride has opted to do this — and it's pure feminist gold.
Markle is going to walk herself down the first half of St George's Chapel, and then will be accompanied by Prince Charles for the rest of the aisle (her father won't be attending because of health reasons). Before they reach the foot of the alter, Charles will step back and Markle will continue on to stand with her future husband. So, yes, that means that Markle is straight up saying that she doesn't need a man to give her away to another man, and my heart is literally singing right now.
According to CNN, this was Markle's plan all along. Even when her father was planning on attending the wedding, she always knew that she wanted to walk the aisle partway unescorted and didn't want to be given away at the alter. This is a bold, important, record-breaking statement and it's probably not too soon to say that Meghan Markle is already my favorite princess.
Markle's wedding procession will be unique for a few other reasons, as well. The bride didn't choose a maid of honor because, according to BBC, she didn't want to have to pick a favorite of her friends. Also, because bridesmaids at royal weddings are always children, her wedding party will consist entirely of tiny tots. The crew will include Princess Charlotte (age 3) and Markle's goddaughters Remi Litt (age 6) and Ryan Litt (age 7).
She'll be accompanied by page boys as well— including Prince George, which just upped the cuteness of this wedding tenfold. I mean, just look at him.
Less than 24 hours until the most exciting, feminist, record breaking wedding commences. Pass the scones, because this is all going to be so, so good.
This article was originally published on