Social Media Users Think Meghan Markle Is Cradling Her Baby Bump Too Much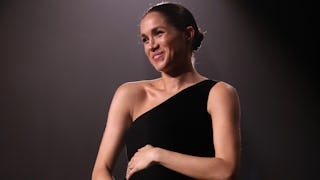 Image via Tristan Fewings/BFC/Getty
Meghan Markle has been cradling her baby bump and some people on the internet are being jerks about it
Today in completely ridiculous news, some people on the internet are annoyed that Meghan Markle has been cradling her baby bump. Yup, this is actually a thing. The Duchess of Sussex has been captured in pictures holding her belly, which is sweet and normal and a total non-issue. Twitter trolls care to differ.
This week, Markle, due next spring with her and Prince Harry's first child, made an appearance at the British Fashion Awards to present an award to the Givenchy designer who designed her wedding dress. She looked like a stunning goddess in a floor-length velvet gown and was pictured cradling her baby bump.
She was also photographed touching her growing belly in Australia a few months ago, once again looking completely lovely and happy and glowing.
All fine and normal, right? Well, not quite. People took to Twitter to criticize the mom-to-be for touch her growing stomach.
Thankfully, there were plenty of people who came to the Duchess's defense and explained that a woman cradling her bump is actually totally normal and natural. They also encouraged the naysayers to chill out and get a hobby (oops, maybe that's more my words than theirs).
Yup, amen to all of the above.
This isn't the first time that Twitter users have gotten weirdly opinionated over a woman holding her baby bump. Khloe Kardashian also caught unnecessary heat for cradling her stomach while she was pregnant. Seriously, people actually cared about the amount of times she touched her body.
Kardashian didn't take the criticism sitting down. She took to Twitter to respond to all the flak.
"People are very opinionated about my bump. I choose to cradle my bump because it's MINE," Kardashian wrote. "I've waited for this VERY short moment for YEARS. I have only months to enjoy this phase in my life, so I will touch my bump and love my bump as often as I choose. Mommy loves you baby!"
Yup, you tell 'em Khloe. How about we all just celebrate pregnant women and let them touch their bellies as much as they'd like? There are far, far more important issues in the world to worry about than a loving mom-to-be showing affection to her new baby.