Meghan Markle's Adorable Baby Bump Is Visible For The First Time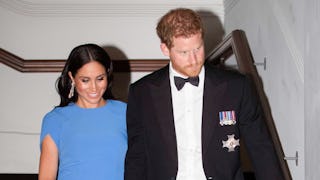 Image via Pool/Samir Hussein/WireImage
Meghan Markle debuted her growing bump while on tour in Fiji
It feels like we just found out that Prince Harry and his new wife, Meghan Markle (AKA, The Duchess of Sussex and also, our hearts) are expecting their first royal baby. And now, we're squealing over what's already a very visible (and adorable) baby bump as the newlyweds tour Fiji this week.
Before we say much more, here's what you came for:
The Duchess is defining "pregnancy glow" in the first photos where her growing belly can't be denied. She and Harry look like every happy newlywed couple who just found out they're going to be parents. That is to say, in love and totally cute.
In my early weeks of pregnancy, I looked like some kind of temperamental ogre, but Markle looks like actual Cinderella as she walks down the stairs holding hands with her literal Prince.
She is simply the cutest pregnant woman ever.
The couple is currently on their first tour as married royals and so far, they've been a huge hit in Australia. Now, they're in Fiji and recently "recreated" a scene on the balcony of the Grand Pacific Hotel that brought back memories of Queen Elizabeth and Prince Philip way back in 1953, standing on the very same balcony.
The couple said they're "overwhelmed by the warm Fijian welcome we received from the people of these beautiful islands this afternoon in Albert Park, and all the way from the airport! It really is a privilege to be here." Harry added, "This visit is particularly nostalgic for us as a young married couple – my grandparents stayed in this very hotel, the Grand Pacific, a number of times over the years."
They pretty much charmed the entire country with their balcony entrance, as is their way.
We know there are many more exciting moments to come from this newly minted royal family, and once their little one is in the mix, we can expect more sweet photos of them as a trio. But for now, we'll just sigh forever at their very obvious love and Markle's enviable maternity looks.