Meghan Markle is All Of Us Meeting Beyoncé At 'The Lion King' Premiere
by Christina Marfice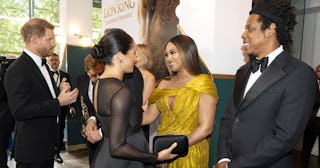 Niklas Halle'n-WPA Pool/Getty Images
Meghan Markle met Beyoncé at the Lion King premiere, and our two queens are basically BFFs now
So The Lion King just had its European premiere, which meant its insanely star-studded cast headed to London to make a red carpet appearance and screen the film for critics. That included Beyoncé, who stars as Nala in the film, and who brought along her equally famous husband, Jay-Z, because of course she did.
And who else attended the European premiere of one of Disney's most highly anticipated movies of the year? Obviously the Royal Family did. Prince Harry and Meghan Markle were there to represent, which means a very big, very important event happened last night: Meghan Markle and Beyoncé met. That's right, our queen met our other queen, and by the videos people posted to social media, it looks like they became immediate best friends.
Like, when they met each other, the first thing they did was hug. And we're not talking a quick, polite hello hug. This was an embrace between women who know that their powers combined could rule our entire planet without skipping a beat.
https://twitter.com/jetpack/status/1150457429785751552
Meghan also got a hug from Jay, but it was Bey who commanded her attention, because duh. The two immediately slipped into what looked like a comfortable conversation, all smiles and relaxed body language. Queen Meghan and Queen Bey are besties, y'all. We're calling it now. Our future overlords have met and they love each other and maybe there's hope for the world after all.
Once their respective husbands joined in, the adorable foursome had a long chat about kids and baby stuff, which is relevant, since Meghan and Harry are brand new parents, and Bey and Jay have three adorable kiddos themselves.
And while we love the entire British Royal Family, reports from the premiere say that people there were pretty dang excited to have Beyoncé Knowles Carter in their midst, and according to a lot of tweets, everyone seemed to know who was the most royal person in the room.
We love Meghan and we obviously love Queen Bey, and having the two of them in one room together is honestly almost too much for our hearts to handle. If we were in Meghan's shoes, meeting Beyoncé on a red carpet, we would absolutely lose it. Props to Meg for holding herself together like the queen she (almost literally) is.
This premiere was obviously a seriously star-studded event — the royals and Beyoncé were far from the only A-listers in attendance.
Basically, this was the event of our dreams, and we're sure our invites just got lost in the mail. Oh well, we'll just be here counting down the minutes until we can go see The Lion King when it hits theaters nationwide on Thursday.