Meghan Markle Reportedly Lodges Complaint Against Piers Morgan & Good For Her
by Cassandra Stone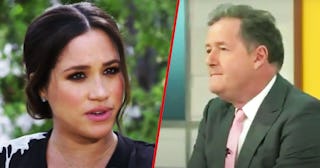 HARPO/CBS and Washington Post/Youtube
Piers Morgan made light of Meghan Markle's mental health struggles and she was apparently NOT having any of that
Piers Morgan is finally facing the consequences of his own actions, after years of hurling abuse and harassment at Meghan Markle. The Good Morning Britain host quit his own show after tens of thousands of people wrote to the show's network in anger after Morgan publicly dismissed Meghan's mental health struggles. Now, Variety is reporting that Meghan herself is believed to have filed a formal complaint against Morgan this week.
Following Meghan and Harry's bombshell interview with Oprah on Sunday, Morgan launched into a long-winded attack on Meghan and dismissed her account of contemplating suicide, which she revealed during the interview. On Monday, the morning after the Oprah interview aired in the U.S., Morgan said he didn't "believe a word" Meghan said about asking the royal family for help regarding her mental health and suicidal ideations.
According to Variety, the Duchess of Sussex herself wrote to CEO Carolyn McCall on Monday, and raised concerns over how Morgan's words would impact someone contemplating suicide and the overall mental health dialogue in the U.K.
ITV, the network that broadcasts Good Morning Britain, has come under fire for mental health matters after three people involved in the network's hit show Love Island, died by suicide during the last two years. Naturally, Morgan's dismissal of such heavy, important matters doesn't make the network look good in any way.
"Who did you go to? What did they say to you?" Morgan shouted about Meghan's admission that she sought help for the grave state of her mental health, but was denied. "I'm sorry, I don't believe a word she said, Meghan Markle. I wouldn't believe it if she read me a weather report."
He noted that only Meghan can say for sure how she was feeling, but after further reflection on his opinion, he still didn't believe her when she said she was so isolated, so trapped, and so low that she "didn't want to be alive anymore."
Morgan quit his morning show on Tuesday after Ofcom, a U.K. media regulator, opened an investigation into his comments this week. Other outlets reported that ITV gave Morgan a chance to apologize to Meghan Markle on-air, but he refused. He was then given a choice: quit or be fired. He chose the former.
On Tuesday's edition of Good Morning Britain, prior to Morgan's departure, he was called out by a colleague for his relentless vitriol against the duchess. Alex Beresford confronted him about it directly, on-air.
"I understand that you don't like Meghan Markle," Beresford said to Morgan yesterday. "You've made it so clear a number of times on this program, and I understand that you had a personal relationship with Meghan Markle and she cut you off. Has she said anything about you after she cut you off? She's entitled to cut you off if she wants to. And yet you continue to trash her."
Morgan then stormed offstage, because even though he's spent the better part of four years hurling nastiness toward Meghan Markle at every turn, he couldn't even handle a 60-second confrontation about his own behavior without huffing off in a tantrum.
Oh, and in case you weren't sure why Piers Morgan hates Meghan Markle so much, it's because he feels like he deserved to date her instead of Prince Harry. He met her, was instantly attracted to her, she did not return those feelings, so he's made it his personal vendetta to smear her name in the press with alarming regularity for four years.
Piers Morgan is, unfortunately, a white man/cockroach who will probably always find a network where he can spew his garbage, but for now — he's quiet. All thanks to Meghan Markle, who has been brilliantly standing up for herself after being silenced for years. BRAVO.
This article was originally published on