Meghan Markle's Entrance Took Everyone's Breath Away
by Thea Glassman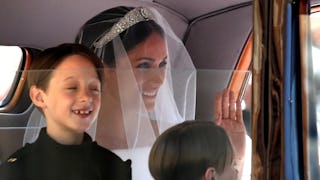 Image via Chris Radburn - WPA Pool/Getty Images
Meghan Markle's entrance was (predictably) perfect
Meghan Markle arrived to her wedding this morning looking like a damn angel. She pulled up in a car with her mom, exited wearing a dreamy Givenchy dress, and floated up the stairs with two page boys carrying her train. It was basically a beautiful, royal fairytale come true.
First up, we spotted her in the car arriving to a scene of pure MAYHEM. How she managed to look this calm, cool, and collected with a crowd like that is completely beyond understanding. Also all the props to her mom, for looking equally cute with her little green beret.
And when I said mayhem – I meant mayhem.
Not to distract from Meghan's moment, but there were a few other cool entrances too. Hi Oprah.
And Britain's other royal couple.
Oh, and hello, Clooneys.
Then, she exited the car and paused on the stairs to gracefully pose and the whole world collectively wept with happiness. That veil, by the way, has "hand-embroidered with flora representing the 53 countries of the Commonwealth" according to CNN.
Video footage in case you want to see the whole dramatic entrance and pretend like you were there.
One more for the cheap seats in the back.
She was escorted down the aisle by Prince Charles (but only halfway, because she walked her own damn self down the first half of the aisle).
*Sigh.* The moment she finally stood with her prince. If this look between them is not pure love then I don't even know what love is.
If you want to feel the power of love even more, just look at this video footage lovebirds. It will warm even the coldest of hearts.
The ceremony commenced.
The priest's face is pretty much all of our faces right now. You lift that veil, Harry.
And, yes, there is video footage of the kiss (because — let's be real — that's kind of what we've all be waiting for).
So, it finally, finally happened. Meghan Markle and Prince Harry got married and we can officially say that we (vicariously) experienced a modern royal love story.
This article was originally published on