Meghan Markle Reacted Very Graciously To Being Called A 'Fat Lady'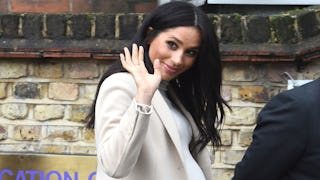 Image via Kirsty O'Connor/PA Wire/Getty
Meghan Markle handled the entire lighthearted exchange perfectly
During an official royal visit today, Meghan Markle greeted several workers at an animal welfare charity. During the polite exchanges, one of the women referred to Markle, who is six months pregnant with her first child, as a "fat lady."
And Meghan Markle handled it seamlessly — because of course she did.
The Duchess of Sussex was recently given several new patronages by the Queen herself, and one of them is Mayhew — the animal welfare organization she visited today. It's right up Markle's alley since she's been an avid supporter of rescue organizations and has even adopted three dogs herself.
While introducing herself to the volunteers who work there, everyone in the room was caught off-guard by the comment (which was absolutely meant as a good-hearted jest):
"Lovely lady, you are! May the good Lord always bless you…And you're a fat lady!"
It's probably not every day a Duchess is referred to as a 'fat lady' during an official event. Especially one who is pregnant. But her reaction — "I'll take it!" — is perfection. And the woman was being completely earnest in expressing her goodwill, so props to Markle for realizing that and being so gracious.
Because what else was she going to do? She could probably tell right away it wasn't meant maliciously, but was more of a compliment toward her beautiful baby bump. Also, let's be honest, if there's one thing that brings out the forthrightness in people and their commentary — it's a baby bump.
Remember last month when Meghan showed up to present an award to her favorite fashion designer, and trolls couldn't wait to lambast the expecting mom for having the gall to cradle her own pregnant belly? Many people were quick to defend her, but just as many called the action of a woman touching her own baby bump "performative."
Ridiculous.
https://www.instagram.com/p/BrTc4f9HXNH/
Meghan and Harry's baby is due sometime later this spring. Kensington Palace officially announced the news back in October:
"Their Royal Highnesses The Duke and Duchess of Sussex are very pleased to announce that The Duchess of Sussex is expecting a baby in the Spring of 2019."
The baby will likely make its royal arrival in late April or early May, given the timeline Markle herself offered publicly during another royal outing just yesterday. She also mentioned that she and Harry do not know the sex of the baby, because they wish to be "surprised."
We are eagerly awaiting the news that another adorable royal baby has made its way into the world — fingers crossed for a gorgeous head of ginger hair!
This article was originally published on