Meghan Markle And Prince Harry Took Archie To A Pub And Yes, There Are Pics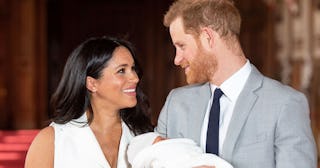 DOMINIC LIPINSKI/Getty
Prince Archie apparently fit right in during his first pub outing
There's nothing quite as English as going out to a pub for lunch, and it's apparently something Prince Harry and Meghan Markle have missed since becoming new parents. So they did what any new parent should do and packed up baby Archie to take him along to a pub for a Sunday lunch. And yes, there are photos.
Someone in the restaurant must have recognized the incredible famous pair (shocking, we know), and snapped a few photos from across the restaurant. Archie is a little tough to see in these, but it's still pretty heartwarming to see a pair of royals and their newborn living totally normal lives like this.
According to reports, both Mom and Dad had the Sunday roast, which is the house specialty, and while Harry had a few pints, Meghan stuck with water. If that isn't the picture of a typical family Sunday in England, we don't know what is.
Probably the most shocking thing about this situation is that Meghan wore shorts and a T-shirt. Just bracing myself for the headlines about how her casual look breaks some royal protocol, like so many other things Meghan does. Insert infinite eye rolls here.
Despite that, it looks like they had a very sweet Sunday outing as a family. One onlooker said they were quiet and casual, and Archie was so well-behaved, people didn't even notice there was an entire family of celebrities in their midst.
"They were on a table with, I presume, a private secretary," a fellow diner told The Sun. "Meghan was cradling Archie most of the time. The little lad was as good as gold, I didn't hear him cry once while he was there."
The eyewitness continued, "No other customers recognized them. The staff clearly knew who they were but kept the service low-key. They did indicate to me they had been there before. They just chatted away like any normal couple and were laughing a lot."
Sounds like a perfectly normal, enjoyable Sunday date to us.
This isn't the first public outing for little Archie, but it's the first time since he was born that his parents tried to go somewhere under-the-radar. The entire family made an appearance at Prince Harry's polo match last month, but those are always a pretty big public spectacle, with fans and paparazzi present. Aside from that, the couple has been staying pretty low-key since Archie's birth, and who can blame them? Having a newborn is a huge life adjustment. Having a newborn when you were recently thrust onto a very large world stage and got married in front of the eyes of the entire planet to one of the most famous and powerful royals in the world? It's just more proof that Meghan Markle is the queen we deserve.