Meghan & Harry Make First Appearance After Sharing Pregnancy News
by Erica Gerald Mason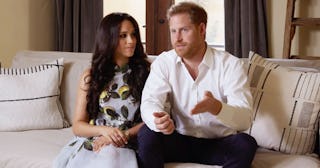 Spotify/Youtube
The appearance is the first for Meghan Markle and Prince Harry after a series of breaking news stories about the couple
After announcing the impending arrival of their second child (on Valentine's Day!) and officially severing ties with the British Royal Family, Meghan Markle and Prince Harry made an appearance at streaming service Spotify's Stream On event.
The Monday event comes following separate news that Meghan won her privacy case against the British tabloids.
The couple, looking relaxed and unbothered, sat on their couch in their Santa Barbara, California, home to talk about Archewell Audio, the production company the pair formed late last year. The program will create podcasts that will air exclusively on Spotify.
Let's set the scene, shall we?
Megs hair looks fab, as usual. The dress, which some on Twitter identified at Oscar de la Renta, looked totes adorbs. After a year in quarantine, Meghan's eyebrows look incredible. Harry was also present, and he looked fine. In contrast to Kate and Will, Meghan and Harry did not have family photos in the background. There did appear to be a ladder or easel in the corner, but one would suppose it was purchased from Rich People's Furnishing, and not meant for actual use.
With the windows open behind them, and the toasted coconut-colored walls as their backdrop, the song "Electric Love" by Børns plays. Meghan begins, "We're using podcasting to drive powerful conversations…" then Harry finishes the thought, "…that inspire, challenge and educate."
"We created Archewell Audio to make sure that we can elevate voices that maybe aren't being heard and hear people's stories," Meghan continues.
Harry adds, "And the biggest part of this is to create this community of where you can share, that will encourage everybody else to then share their own vulnerabilities within that safe space."
In December, the duo unveiled a "multi-year partnership" between Spotify and their freshly founded production company, called Archewell Audio — with a two-minute audio clip of them chatting about their plans for the show.
The Duke and Duchess of Sussex started Archewell Audio in December 2020 by asking high-profile colleagues and change-makers like Tyler Perry, Elton John, Stacey Abrams, James Corden, and more to contemplate the year in a holiday special. The couple brought in little Archie, 1, to take a turn at the mic.
"You can speak into it," Prince Harry told the toddler.
"Archie, is it fun?" Meghan asked her son, to which Archie answers, "Fun?" Then Meghan repeated, "Fun!"
Archie delivered a cute message to listeners — with support from his clearly smitten parents.
"After me. Ready? Happy…" Harry said, then Archie repeated, "Happy." Then, like every parent across the planet, Meghan and Harry coached the kiddo to say into the microphone what they had been practicing all day. "New…," they prompted.
And Archie delivers: "New Year" — his parents cheer him on as Archie giggles and we all collectively die of cuteness.
Then, like now, they presented themselves merely as "Harry" and "Meghan."