Meghan Markle and Prince Harry Share Stunning First Official Portrait Since Stepping Down
by Julie Scagell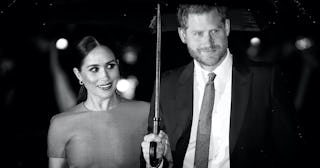 Max Mumby/Indigo/Getty Images
And in the portrait, Meghan Markle appears to pay a subtle tribute to Princess Diana
The Duke and Duchess of Sussex were all smiles and looking as gorgeous as ever in their first official portrait since stepping down from their senior royal duties in March.
The stunning black-and-white images were taken in their home in Montecito, California and both Prince Harry and Meghan Markle look flawless. Markle wore a fitted blazer, plain white T-shirt, and dark pants, while Prince Harry wore a button-down and no tie. The royal couple, who were photographed by Matt Sayles, a Los Angeles-based photographer, looks relaxed with the duchess mid-laugh resting her arm on her husband's knee.
In the portrait, the Duchess appears to pay a subtle tribute to her husband's late mother, Diana, Princess of Wales by wearing a watch that is identical to the Cartier Tank Française style Diana frequently wore.
The snapshot comes as an announcement was made that the pair will emcee a TIME100 virtual conversation titled "Engineering a Better World."
"The Duke and Duchess of Sussex, both TIME100 alumni, are among the most influential voices in the world," said Dan Macsai, TIME executive editor and editorial director of the TIME100, in a statement. "We look forward to working with them to elevate essential voices and highlight real solutions to some of the most pressing issues of our time."
Their session will take place on Oct. 20, with guests that include Reddit cofounder Alexis Ohanian, Rappler CEO Maria Ressa, and the hosts of Teenager Therapy, a podcast Harry and Meghan were on earlier this month.
Markle opened up about a difficult period in her royal life — when she was pregnant with Archie — during her appearance on the podcast. The Suits actress said she was told she was "the most trolled person in the entire world, male or female" in 2019, and said dealing with all of it while carrying Archie was one of the most challenging periods of her life.
"Now, eight months of that I wasn't even visible — I was on maternity leave or with a baby," she said of the time. "But what was able to just be manufactured and churned out, it's almost unsurvivable."
The couple, who announced their intentions to step back as senior royals in January, moved with their adorable 17-month-old son, Archie, to California, and bought a home in Santa Barbara in June.
According to TIME, the "TIME100 Talks is a new live event series that convenes leaders from every field to spotlight solutions to urgent global problems and encourage cross-disciplinary action. Past speakers include immunologist Dr. Anthony Fauci, UNHCR Special Envoy Angelina Jolie, chef and humanitarian José Andrés, musician John Legend and more."
It's good to see the pair happy, healthy, and continuing to have conversations that matter.