Meghan Markle's 'Suits' Costar Defends Her In Mic-Drop Twitter Thread
by Julie Scagell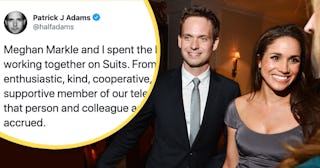 Patrick J Adams/Twitter and George Pimentel/Getty
Meghan Markle's friends have had about enough of the Palace's attacks on her and are coming out to defend the Duchess publicly
Meghan Markle's former co-star on Suits, Patrick Adams, has some serious words for anyone coming after the pregnant mom in advance of her highly anticipated, tell-all interview with Oprah that's airing this Sunday. He took to Twitter to clear up any concerns about her character and it is legendary.
Family, friends, and celebrities have been coming to Markle's defense this week after the royal family decided it would be the perfect time to drag her through the mud about bullying allegations in 2018 by Buckingham Palace staff. Adams, like many, came to Markle's defense, saying in part, "Like the rest of the world, I have watched her navigate the last few years in astonishment."
Adams went off, writing that he watched as she fell in love, moved to a new country, and was slammed publicly by the media. "It sickened me to read the endless racist, slanderous, clickbaiting vitriol spewed in her direction from all manner of media across the UK and the world," he wrote. "But I also knew that Meghan was stronger than people realized or understood and they would regret underestimating her."
He then addressed the fact that, amid the airing of the Winfrey interview, the institution still continues coming after her. One that did so repeatedly while she was pregnant with a child who would become a part of the royal family. "IMO, this newest chapter and it's timing is just another stunning example of the shamelessness of a institution that has outlived its relevance, is way overdrawn on credibility and apparently bankrupt of decency," Adams continued.
The Sussexes originally announced in January 2020 that they would be stepping down from their senior royal duties, and made that decision final in an announcement earlier this year.
Adams is best known for playing Mike Ross, a college dropout turned unlicensed lawyer in Suits alongside Markle. "Meghan Markle and I spent the better part of a decade working together on Suits," he said. "From day one she was an enthusiastic, kind, cooperative, giving, joyful and supportive member of our television family. She remained that person and colleague as fame, prestige and power accrued."
After the Palace suddenly said they would now be launching an investigation into the bullying claims, a rep for Markle told US Weekly she denied the claims, noting that, "the duchess is saddened by this latest attack on her character, particularly as someone who has been the target of bullying herself."
Adams signed off, saying this was "just another stunning example of the shamelessness of [an] institution that has outlived its relevance, is way overdrawn on credibility and apparently bankrupt of decency." He added, "Find someone else to admonish, berate and torment. My friend Meghan is way out of your league."