Meghan Markle's Surprise Visit To A Bakery That Supports Women Gives Us All The Feels
by Kristine Cannon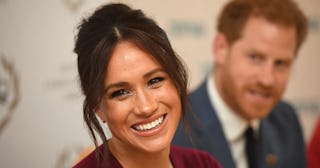 Jeremy Selwyn - WPA Pool/Getty Images.
Meghan Markle did more than make an appearance at the opening of the bakery; she comforted a crying woman, too
In November 2018, Meghan Markle visited Hubb Community Kitchen to celebrate the success of her charity cookbook, Together: Our Community Kitchen, which sold over 71,000 copies in just seven weeks. The cookbook not only showcases over 50 recipes from the Hubb Community Kitchen women whose community was affected by the June 2017 Grenfell Tower fire in London, but all proceeds also go directly to the community kitchen.
And now, one year later, Markle made a surprise appearance to Luminary Bakery's grand opening — but this wasn't your average grand-opening appearance.
Luminary Bakery is a grassroots organization that helps women who are at a social and economic disadvantage — including those who have experienced violence, sexual assault, and/or homelessness — get back to work. It's described in the caption to an Instagram video posted on the The Duke and Duchess of Sussex's account on Nov. 1 as a "beautiful example of community and uplifting those during hardship for the greater good."
In other words, it's exactly the organization Markle would support.
The video shows Markle chatting with the women at the bakery, writing notes, donning an apron and helping to decorate one of their cakes, and, finally, cutting the cake at the opening.
"Her Royal Highness was proud to be invited to attend the launch of their second bakery," the caption reads. "This addition will enable the organization to provide services, support and mentoring for four times the number of women."
According to The Telegraph, Markle comforted a crying woman, Tanya, at the event. Tanya was, according to reports, stabbed multiple times by her ex-partner. Markle reportedly told the woman that humans are stuck in a habit of "wanting things done immediately" and needing an "instant fix," to which Tanya responded, "But we aren't mechanical objects that need to be fixed. You're a wounded creature that needs to be healed and that takes time."
"Our lives may be different, our backgrounds, our experiences, all varied but I find that in these moments of connection it becomes abundantly clear that our hopes, our fears, our insecurities, the things that make us tick … well, those are very much the same. And there's a comfort in that," Markle says.
This wasn't Markle's first encounter with Luminary Bakery. She visited the flagship location in East London earlier this year; and following that visit, she featured Luminary Bakery in her "Forces For Change" feature published in the September issue of British Vogue.
According to Vogue, since Luminary Bakery's launch in 2014, 56 women have completed and benefited from the six-month training program offered at the organization, which was founded by Alice Williams, Sarah Harrison, and Abigail Mifsud.