Meghan Markle's Throwback Video For International Day Of The Girl Is Perfection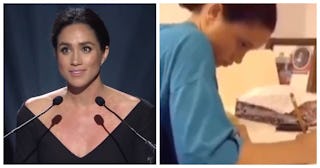 Sussex Royal/Instagram
Duchess Meghan Markle had the ultimate throwback video to celebrate girls this week
Since 2012, October 11th has been known as International Day of the Girl. It's a special day which was created by the UN to highlight the inequality of women all over the world. It also focuses on celebrating women's achievements. Of course, Meghan Markle, who is a fierce advocate for women's rights, had a lot to say on the Day of the Girl. So this week, she shared a beautiful post on the Sussex Royal Instagram page.
In the moving video, we see Meghan speaking before an audience at the United Nations conference in 2017. It's set to voices singing and chanting while Meghan talks about women raising their voices. Then, it cuts to a clip of an 11-year-old Meghan being interviewed on TV.
Meghan was profiled on Nickelodeon when she was just a kid because she wrote a letter and successfully lobbied Procter & Gamble to change a sexist ad for dish soap. In the video, you can hear the young Meghan talking to the camera saying, "If you see something that you don't like or are offended by, on television or any other place, write letters and send them to the right people and you can really make a difference for, not just yourself, but lots of other people." The video got tons of circulation when it first came out, but it turned out to be the perfect share for this occasion.
It's such a beautiful and inspiring story, but it also shows that Meghan has always been fierce and outspoken about her beliefs. When she speaks to young girls about using their voices, she's really speaking from experience. No doubt, it's a bit easier for girls to pay attention to someone who sees injustice and really does take a stand. Clearly, Meghan has been doing that for some time and she's not about to stop now. Meghan and Harry's new lawsuits against the British tabloids show that the pair are all about fighting for what's right.
The royal Instagram page appropriately captioned the video, "The Duchess of Sussex has been a long time advocate for women's and girls rights and at the age of eleven campaigned against a sexist advertisement, which was then changed. No matter what age, or what background you have the power to make an impact."
The narration in the video continues, as Meghan says, "For each one of you, keep asking questions. Keep pushing forward. Keep shining brightly. Know your worth and know that we are behind you every step of the way." It's even more empowering because we really know she means it.
Meghan Markle has such a powerful impact on girls today. This video was truly the perfect throwback to help celebrate them. We can't wait to see what Meghan does next, but chances are, it'll be inspiring.