Meghan Markle Looks Radiant During First Public Appearance After Giving Birth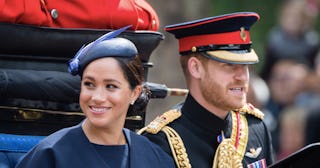 Neil Mockford/Getty
Meghan and Harry take a break from parenting duty to attend Trooping the Colour
Just five weeks after giving birth to her son Archie, Duchess of Sussex Meghan Markle has emerged from the bubble of maternity leave to pay tribute to the Queen. It's her first public appearance since the royal baby's arrival, and she looks absolutely radiant (as always).
The Queen's official annual birthday celebration, Trooping the Colour, occurs every June (though the monarch's true birthday is in April) and it's not an event to be missed. As evidenced by Meghan happily waving to the crowd from her carriage, alongside Prince Harry.
Trooping the Colour is a royal tradition that publicly honors the Queen's birthday via parade. A full-on ceremony performed by regiments of the British and Commonwealth armies, Trooping the Colour has been a longstanding tradition since the 17th century.
And while it's amazing that Queen Elizabeth is 93 years old and still reigning over the Commonwealth, let's be honest — we're really here for the Meghan pics.
Just look at her — if that isn't the definition of "ah, freedom" I don't know what is.
Though most of us don't have to don a designer ensemble complete with fascinator at any point during our maternity leave, we can all relate to that feeling of rejoining the human world after weeks of newborn life.
Sure, Archie is likely somewhere in the palace, waiting to be fed and tended to by mom and dad at some point during the festivities. And it's probably not a far jump to assume there were some nerves about the big first appearance (those two minutes in Windsor Castle post-birth do not count as "freedom," sorry) and how it would all go down.
But that look up there? That embodies the internal sigh of relief we all heave when things are going smoothly and we're just happy to be out and about.
While wee little Archie is a little too young yet to truly get a kick out of the festivities, that didn't stop Prince George, Princess Charlotte, and Prince Louis from getting in on the fun.
Ah! Those. Faces. It looks like they're watching the Red Arrows (royal planes) fly overhead. And they are living for it. Prince Louis's expression here is making ovaries explode worldwide — not to mention his little shoes. OMG.
But the best part of the balcony photos, if we're being honest, is the Perfected Parent Hand-Off happening between William and Kate.
Because we all know what it's like to play "hot potato" with a squirmy, squirrely one-year-old who wants nothing to do with being contained or held longer than 0.5 seconds. The balcony situation means Will and Kate probably had to do this hand-off no less than 37 times until the end of the ceremony.
Over 1400 parading soldiers, 200 horses, and 400 musicians came together for the event today — but more importantly, Harry and Meghan were out and about together, looking happy and fabulous and only the teeniest bit tired.