Meghan Markle Wins Privacy Battle Against U.K. Tabloids Over Letter To Her Dad
by Madison Vanderberg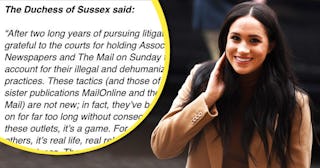 chrisshipitv/Twitter and DANIEL LEAL-OLIVAS/Getty
Meghan Markle wins court case against the British tabloids that published a private letter she sent to her father
For the last two years, Meghan Markle has been in a legal battle with a British tabloid after the rag published a handwritten letter that Meghan sent to her father Thomas Markle. Now, Meghan has triumphantly announced that she has won the privacy case against the tabloid, in a move she calls a "comprehensive win" against a predatory news organization she thinks has "illegal and dehumanising practices."
Back when Meghan was set to marry Harry, a time that ought to have been among the happiest in her life, the tabloids owned by Associated Newspapers (i.e. Mail on Sunday, Mail Online, and the Daily Mail, which we all know are trash) consistently harassed Meghan and her family, including publishing private letters sent between her and her father. It was invasive, it was cruel, and though I'm not a royal commentator, I would venture to say the tabloid's interference in Meghan and her father's relationship was seriously to blame for their current estrangement.
On February 11, 2020 — two years after this horrible saga began — Meghan announced the good news.
"After two long years of pursuing litigation, I am grateful to the courts for holding Associated Newspapers and the Mail on Sunday to account for their illegal and dehumanising practices," Markle said in a statement.
The judge ruled in favor of Meghan's "claim for misuse of private information," saying "it was, in short, a personal and private letter. The majority of what was published was about the claimant's own behaviour, her feelings of anguish about her father's behaviour — as she saw it and the resulting rift between them. These are inherently private and personal matters."
"[Markle] had a reasonable expectation that the contents of the letter would remain private," the judge continued.
"These tactics — and those of their sister publications Mail Online and the Daily Mail — are not new, " Meghan continued. "…For these outlets, it's a game. For me and so many others, it's real life, real relationships and very real sadness. The damage they have done and continue to do runs deep."
"The world needs reliable, fact-checked, high-quality news. What the Mail on Sunday and its partner publications do is the opposite. We all lose when misinformation sells more than truth, when moral exploitation sells more than decency, and when companies create their business model to profit from people's pain."
Meghan went on to thank her husband and her mother for their support over the last two years as she worked tirelessly, fighting the courts on this. "For today, with this comprehensive win on both privacy and copyright, we have all won," said Meghan.
It's a good day for the Duchess.