Meghan Reveals The Palace Had Racist AF 'Concerns' About Archie's Skin Color
by Christina Marfice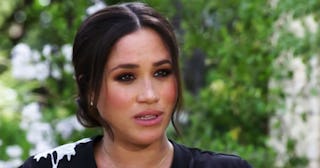 CBS
In her bombshell interview with Oprah, Meghan Markle reveals the racist "concerns and conversations" that happened at the Palace over Archie's skin color
There were so many jaw-dropping revelations during Meghan Markle's highly anticipated two-hour sit down with Oprah, we hardly know where to start. But one that left Oprah (and we're sure, many viewers) visibly shook is when Megs revealed that certain unnamed members of the Royal Family had "concerns and conversations" throughout her entire relationship with Prince Harry about whether their children would have dark skin.
In the interview, Meghan talked about how, while she was pregnant, the Palace was having all sorts of talks about the future of her family. Alongside attempts to change a law in the U.K.'s constitution to ensure Archie, the couple's toddler son, wouldn't receive a royal title or a protective detail, there were the conversations about her race and how her son would look when he was born. Yes, seriously.
"They didn't want him to be a prince … which would be different from protocol, and that he wasn't going to receive security," Meghan said. "We have in tandem the conversation of, 'He won't be given security. He's not going to be given a title.' And also concerns and conversations about how dark his skin might be when he's born."
Oprah was all of us in that moment, staring at Meghan in total disbelief for a moment with her mouth open, before pressing for details, like who the hell was worried Archie would come out brown? But the Duchess refused to name names, saying that revealing who said that would be too "damaging" for that person (or persons, some certainly have their suspicions).
Later in the interview, after Harry joined, Oprah pressed him for details on the horrifying story.
"That conversation I'm never going to share," he said. "It was awkward. I was a bit shocked."
Today, on CBS This Morning, Oprah shared more context about that bombshell moment, including clarifying that it was not the Queen or Prince Philip who said anything about Archie's skin color.
"He did not share the identity with me," she said, talking about private conversations she had with Harry off-camera. "But he wanted to make sure that I knew, and if I had an opportunity to share it, that it was not his grandmother, nor his grandfather that were part of those conversations… He did not tell me who were a part of those conversations. As you could see I tried to get that answer, on-camera and off."
Whoever said that deserves to be named from rooftops all over London. But Harry and Meghan are still protecting them, whoever they are, so we can only speculate — and feel a deep disgust.
This article was originally published on