Meghan Reveals She 'Didn't Want To Live Anymore' In Oprah Interview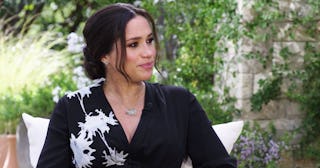 CBS
Meghan Markle bravely reveals her struggle with suicidal thoughts amid royal life
While pregnant with her first child, Meghan Markle was dealing with some serious trauma inflicted by the British tabloids and the Royal Family, who did nothing to defend her amid what she calls "character assassination" in the form of false and inflammatory stories about her. Feeling hopeless and alone, Meghan says she had thoughts of suicide — and that when she asked the Palace for help, they denied her.
One of the saddest and most shocking revelations of Harry and Meghan's two-hour interview with Oprah Winfrey was Meghan describing her difficult start as a member of the royal family. Amid negative and racist British press coverage, Meghan shares that she felt helpless and lost while pregnant with Archie. "I just didn't see a solution. I would sit up at night, and I was just, like, I don't understand how all of this is being churned out," she tells Oprah of the horrid stories about her in the press. "I realized that it was all happening just because I was breathing. I was really ashamed to say it at the time and ashamed to have to admit it to Harry, especially, because I know how much loss he's suffered. But I knew that if I didn't say it, that I would do it."
She says, "I just didn't want to be alive anymore. And that was a very clear and real and frightening constant thought."
Meghan "didn't know who to even turn to" and reveals that one of the people she eventually reached out to for help was one of Diana's best friends. "Who else could understand what it's actually like on the inside?" she says.
The most infuriating and heartbreaking aspect of this situation is that Meghan tried getting help from the Institution, but she says they denied her. "I went to one of the most senior people to get help. I share this because there are so many people who… are afraid to voice that they need help, and I know personally how hard it is to not just voice it, but when you voice it say no," she says.
"I remember how [Harry] just cradled me. I went to the Institution. And I said that I needed to go somewhere to get help," she tells Oprah. "And I said that I'd never felt this way before. I need to go somewhere. And I was told that I couldn't, because it wouldn't be good for the institution."
Meghan points out that she truly needed the Palace's help because as a new member of the Institution, she had no power or resources to seek help on her own. "[Going to a hospital] is what I was asking to do," she says. "You can't just do that, I couldn't call an Uber to the palace, you couldn't just go. You have to understand… that was the last time I saw my passport, my drivers license, my keys. All that gets turned over."
Meghan says she went to Palace human resources, "because at my old job there was a union and they would protect me."
"They said, 'My heart goes out to you because I see how bad it is. But there's nothing we can do to protect you because you're not a paid employee.'"
"You couldn't call an Uber to the palace. You couldn't just go," she said. "You have to understand ― when I joined this family, that was the last time until we came here I saw my passport, my driver's license, my keys. All that gets turned over."
Can we take a moment to appreciate how incredibly brave Meghan is? To share something so deeply personal that has the potential to turn a negative spotlight on her once again by those who will defend the Palace at all costs, all in the name of helping others in the same situation? Of course, Twitter immediately came to her defense.
By speaking out, Meghan is giving others a chance to seek help by bringing about awareness.
We hate that Meghan ever had to feel this way and that she was told she couldn't get the help she needed, but we admire her forever for sharing her personal story in the hopes of helping others in a similar position. The British Royal Family never deserved her.
If you or someone you know is struggling with feeling of anxiety, depression, helplessness, hopelessness, or despair, call 1-800-273-8255 for the National Suicide Prevention Lifeline. You can also text HOME to 741-741 for free, 24-hour support from the Crisis Text Line.
This article was originally published on