Meghan Trainor's 4-Month-Old Speaks First Words In New Video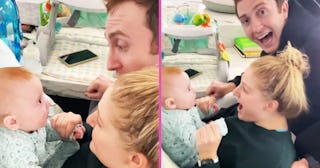 Meghan Trainor/Instagram
Look who's talking? It's Meghan Trainor's little baby genius
Listen, I'm just going to come out and say it, I think Meghan Trainor and Daryl Sabara's child is a baby genius. In a new video for Sabara's birthday, Trainor shared a video of her FOUR-MONTH-OLD BABY saying "I love you" to his mama and dada. It was as fantastic as it was bewildering to see those words come out of that teeny tiny baby body.
Trainor gave birth to baby Riley in February, meaning the little guy literally JUST celebrated his four-month birthday and he's already uttering his first words. Okay, sure, maybe it's just babbling, but watch the video for yourself and tell me your ovaries aren't bursting.
"Happy birthday @darylsabara! You'll never know how much we love you," Trainor captioned the sweet video which shows Trainor and Sabara saying "I love you" to their son as he utters a baby-babble version of it back to everyone's surprise.
The good people of the comments section felt the same way and weighed in with all sorts of OMG reactions.
Also, doesn't little Riley look exactly like a tiny version of Daryl Sabara? So cute.
It's a sweet and happy moment for the new mom, who had a rough pregnancy and an even harder birth. Back in December 2020, Trainor was diagnosed with gestational diabetes, though she called it a "little tiny bump in the road" and said it just meant that she had to be extremely conscious of her diet. Then, like a lot of women, she had to deal with giving birth during a pandemic, and not being able to have her mother in the delivery room with her. After her son was born, she opened up to Today Parents about her son's "terrifying" first few hours, saying he was born breech and had "breathing issues" immediately after delivery.
"It was one of those horror stories where he didn't cry," Trainor shared. "He didn't make noise when he came out. I was like, 'Why isn't he crying?'"
"It was terrifying," Trainor said after being told by doctors that her son was having breathing issues. "I got to see him for one second before they took him away. That was probably the worst part," she said. After five days in the neonatal ICU, Riley was healthy enough to go home with his parents and Trainor documented that tense first week online, saying, "We had a rocky start..but Riley is perfect, happy and healthy. so lucky to be your mama sweet boy."
Thankfully, it seems Riley is doing just fine now and is saying whole sentences. What an adorable, smart, and healthy little bundle of joy.