Free Life Jacket Saves Woman's Life Hours After It's Donated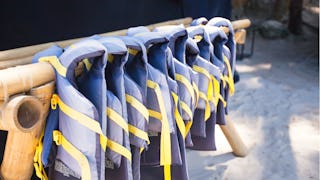 Image via TravnikovStudio/Shutterstock
Woman received free life jacket just hours before incident
Four years ago, 26-year-old Meagan O'Meara went for a swim in the Clackamas River and drowned. Her loss started a water safety movement that saved another woman's life on Saturday.
On July 5th, 2013, Meagan O'Meara did what many of us have been doing this holiday weekend — she headed to the water. While on a rafting trip on the Clackamas River, O'Meara decided to go for a swim. She dove into the water and disappeared. Dive teams began searching for her, but her body was not found until Sunday afternoon when family members discovered "something" under the water near where she was last seen. The body, found under 15 feet of water, was Meagan.
O'Meara's family was moved by her loss to start a fundraiser they called, "Meg's Moments." They used the money they raised to buy life jackets, and for the past four years have given them out for free to people visiting the Clackamas River over the July 4th weekend. This past weekend they gave out more than 600.
One of those free life jackets went to a woman who is deaf and was visiting the Clackamas to go floating with a group of friends. Robert O'Meara, Meagan's father, shared what happened next with Fox 12 Oregon: "She fell off the boat and got sucked underneath because it was losing air," he said, "and the only thing that was keeping her up was the life jacket…She was so, so happy to be alive. She said that if she wouldn't have had that life jacket on, she wouldn't be here."
The fear of losing our children to drowning is one that haunts parents during their children's early years — we put fences up around pools, shove floaties on their arms, and hold their hands while they wade in the surf. As our kids get older and learn how to swim, we are only too thrilled to give them more freedom in the water. But O'Meara's story reminds us that drowning is a risk no matter what your age or swimming ability. Making your kid put on a life jacket before going in the water is like making them put on a seatbelt before getting in the car — hopefully, they won't need it; hopefully, this trip to the lake will be as uneventful as a drive down the street to the grocery store. But if the worst should happen, you (and they) will be glad they had it.
This article was originally published on