Melania Trump Doesn't Want Us To Care About Her Clothes, Internet Says 'Huh?'
by Thea Glassman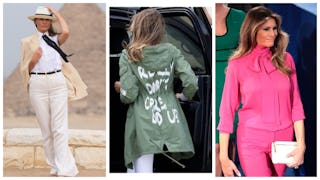 IMAGE VIA SAUL LOEB/CHIP SOMODEVILLA/SCOTT OLSON/GETTY
The woman who wore that jacket doesn't want us to care about her clothes?
Okay, so, buckle up for this one. Melania Trump recently visited Africa and was criticized for wearing a pith hat, which is a style linked to colonialism. The rest of her outfit was pretty reminiscent of colonialism fashion as well. When asked about her fashion choices by reporters, Trump responded: "I wish people would focus on what I do, not what I wear."
The internet had some thoughts about that.
First of all, people were pretty confused as to what it is exactly that Melania Trump does. Like, genuinely curious.
Others recalled the infamous moment when Trump wore a jacket covered in the words "I don't really care do u?" when she visited an immigrant children's shelter.
And she really wonders why we're talking about her clothing choices? Really?
https://twitter.com/jetpack/status/1048812897420230657
And just for kicks, remember when she wore a pink, pussy bow blouse to the 2016 Presidential debate, immediately after Trump's "grab 'em by the pussy" tape leaked? Yeah.
Many noted that it's pretty difficult to ignore her fashion choices when she's wearing a very common symbol of colonialism during her trip this week.
Laura Seay, an assistant professor at Colby College who focuses African politics, tells NPR that Trump's fashion choices represent an "outdated view of the continent." She noted that the way that First Lady dressed and the activities she chose "fulfill[ed] a lot of stereotypes" (like, in lieu of feeding baby elephants she could have visited a tech hub or spoken to survivors of sexual violence).
"It's not a place looking for white saviors in colonial getup," Seay said. "It's a vibrant place where there's all sorts of innovation and creative problem-solving."
Kim Yi Dionne, a political-science professor at the UC Riverside, agreed. "When people think of Africa, they have these standard narratives," Dionne tells The New York Times. "Her attire is a signal of her understanding of what Africa is in 2018. It's tired and it's old and it's inaccurate."
Amidst all the controversy surrounding her attire during her Africa trip, it's difficult to forget the fact that the First Lady's husband has been so reportedly unkind to the entire continent of Africa. In January, The Washington Post reported that the president said he didn't want immigrants from "shithole countries" coming to America. He made that alleged comment in reference to Haiti, El Salvador, and African nations.
The First Lady was asked about that quote during her trip, and she responded: "Nobody discussed that with me and I never heard him saying those comments."
Hmmm. Might I suggest that Melania add "pay attention to comments that the president makes" to this long itinerary of things she "does?"