Melania Trump Wishes Refugee Kids Separated From Parents 'Good Luck'
by Julie Scagell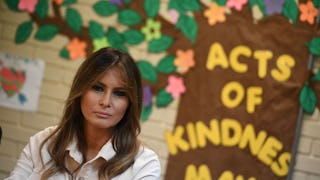 Image via Getty Images/ MANDEL NGAN/AFP
Trump also told the kids to 'be kind' to one another
After sporting a not so subtle message on her jacket yesterday on the way to meet immigrant children that read, "I Really Don't Care, Do U?" First Lady Melania Trump met with those kids and her message to them, in part, was "Good luck."
Trump spent about an hour with kids at the New Hope Children's Shelter, an immigration center in McAllen, Texas which houses 12-17 year olds, most of whom are from Guatemala, Huff Post reports. Many of these kids were unaccompanied when they crossed the border, and others were separated from their parents.
Trump made the unannounced visit yesterday to the center, speaking to the kids directly and through an interpreter, asking them where they're from and how long they would be staying. When an employee at the shelter told her the average length of stay is approximately 42 to 45 days, her response was, "That's great."
You just can't make this stuff up.
This comes on the heels of her jacket controversy, which originally was said to be "just a jacket" with no hidden message before President Trump doubled down, tweeting it was in reference to her disdain for "Fake News."
Since April, over 2000 children have been separated from her parents at the U.S.-Mexico border and put in facilities like the one Trump visited. Earlier this week, the president signed an executive order to end these separations though the government hasn't specifically said how they will process those families who have already been separated.
Publicly, the first lady has not offered her opinion of her husband's "zero tolerance" policy. Her spokeswoman Stephanie Grisham said the first lady believes "the law should be followed" on immigration, HuffPost reported.
Trump's unscheduled trip also included meetings with those involved with New Hope Children's Shelter. "Her goals are to thank law enforcement and social services providers for their hard work, lend support and hear more on how the administration can build upon the already existing efforts to reunite children with their families," a spokesperson for the first lady said in a statement.
"I'm here to learn about your facility, in which I know you house children on a long-term basis," Trump said during her visit. "And I'd also like to ask you how I can help these children to reunite with their families as quickly as possible." In addition to her tone deaf "good luck" comment, Trump also told the kids, "Be kind and nice to other, OK?"
Maybe give your husband that advice instead.