Melissa Joan Hart Has Zero Plans To Watch 'The Chilling Adventures Of Sabrina'
by Thea Glassman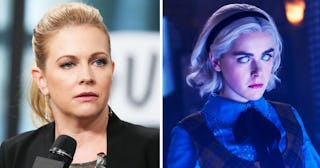 Image via Daniel Zuchnik/Getty and Netflix
Melissa Joan Hart is skipping the Sabrina the Teenage Witch adaptation
The OG Sabrina Spellman doesn't have much interest in meeting the new Sabrina Spellman. During an interview with INSIDER, Melissa Joan Hart said that she has zero plans to catch up on the Chilling Adventures of Sabrina, which is heading into its third season on Netflix. So, basically, this new witchy generation is not getting the signature "woo-hoo" stamp of approval from 90's Sabrina.
Turns out, the Netflix series just isn't Hart's type of entertainment. She's watched a few clips and said that it's not really for her, explaining that she's not into scary content.
"It's a lot more dark and Satanic and sexy than ours was so it's a very different kind of show," she said. "I think it's geared toward much more millennial and younger generations. It's not something I'm going to watch, that I'm interested in watching right now, and it's not something that my kids will watch."
Safe to say that the original Salem is also opting out of the adaptation in solidarity? He's got a lot of other things going on.
So, unfortunately, this means that we probably won't ever get a Melissa Joan Hart cameo in the series. "I don't know who'd I'd play," she told INSIDER. "If I'm not Sabrina, who am I? She's already got her aunts. … There's a lot of factors involved in that."
That's fair enough but can we figure out a way to get at least one appearance from the Quizmaster? Mr. Craft? LIBBY?!
If this is all making you very, very nostalgic for the original Sabrina the Teenage Witch, you're going to want to watch Entertainment Weekly's cast reunion immediately. Aunt Hilda and Aunt Zelda, the world has missed you terribly.
"Every actor wants to have that one role that's iconic, that speaks to people, that people relate to it," Hart told EW. "When fans come to us and say, 'We grew up with you,' that is the biggest compliment we could ever receive for working hard all those years… It just makes us feel good that so many people enjoyed it and enjoyed our work and what more can you ask for?"
Also, she still hangs out with Soleil Moon Frye (aka Roxy) and has other mini reunions with the rest of the cast. Prepare for your crush on Josh to return immediately.
So, it looks like the Chilling Adventures of Sabrina cast will do their own thing and so will the OG Sabrina cast. Luckily for us, we can enjoy both.