Hospital Offers 'Graduation' Ceremony For Babies Leaving The NICU
by Sarah Hosseini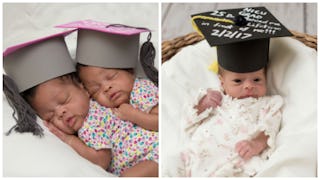 A North Carolina hospital offers graduation ceremonies for babies leaving the NICU and they're adorable
Having a baby is an emotional rollercoaster for everyone. But having your baby go to the NICU adds an extra layer of worry. One North Carolina NICU nurse knows how scary it is first hand, so she gives these families something to look forward to: graduation day.
Melissa Jordan, a NICU nurse at CaroMont Regional Medical Center in Gastonia came up with the adorable idea to celebrate all of the babies going home. It doesn't matter whether the NICU road is long or short, the milestone of being discharged from one is to be celebrated.
"As a nurse working in the NICU, you become so close with not only the patients but their families as well," Jordan tells HuffPost. "Some babies stay in the NICU a month to two months so it's very easy to form a special bond with the family and baby."
She birthed the brilliant idea about six months ago when parents of a baby boy born at 28 weeks gestation brought him a onesie that said "NICU GRAD" for his discharge day. Jordan was overjoyed for the family and started thinking of ways to make the baby's day even more special. So she made a little graduation cap.
"I made the first one out of good ol' construction paper," Jordan tells Babble. "I just wanted to make something special for them for the day when it finally arrived."
"The day he got discharged, we gathered staff and we went in singing and dancing and gave him his cap — and his parents just smiled ear to ear — that's when we knew it was something we wanted to keep doing for other families," Jordan tells Buzzfeed.
The caps have come a long way from construction paper and are now made out of foam sheets. They come in different colors, each with the message, "X days behind me, a whole lifetime in front of me," with the number of days they spent in the NICU."
The ceremonies are really special and Jordan thought it would also be nice to capture the huge milestone in a beautiful way for the families. Cell phone photos are fine and great, but professional photos are sometimes the real icing on the (graduation) cake. So Jordan contacted Bella Baby Photography, a photography company that is contracted to take photos of babies and their families at hospitals across the country.
"The photos are free. We gift this to the family because these babies that are in the NICU haven't had the traditional postpartum experience. They deserve a little extra help for all of their stress and worry. And plus it's a celebration!" Lauren Naldzin, Director of Operations for Bella Baby Photography tells Scary Mommy.
And clearly this baby is celebrating with a smile!
Bringing your baby home after time in the NICU is an experience that many parents will tell you is filled with so many emotions. It's certainly joyful, but also very nerve-wracking especially for those families who still have medical gear to figure out like tubes, breathing apparatuses, and medicines. That's why the gift of the graduation photo isn't just an awesome experience, it's also the gift of so much more, mainly hope.
"These photos can bring them back down the road that they took to get to today, it's also a sign of relief and celebration," Naldzin says, "It helps them look forward to the future and to the experience of life with a baby at home as they expected."
Taking the photo at the hospital is important because as many moms know, once you get home everything becomes a blur. Maybe you intend to take photos when you get home, but you end up being the only one taking them (which means you won't be in them). Or maybe you've scheduled a photoshoot at your home with a photographer, but life gets in the way. Perhaps you have to reschedule and before you know it's weeks away and your baby has changed so much.
Additionally, the hospital plans to start a wall of NICU graduate photos to provide hope and inspiration for new families coming into the NICU for the first time.
Naldzin says, "They're growing the wall with every graduate. The wall will remind them that they're stay is temporary and they'll move to the next stage of normal life."
If these photos are any indication, the future looks very bright.
This article was originally published on