Melissa McCarthy Rode A Motorized Podium Through NYC As Spicey, So Set Your DVR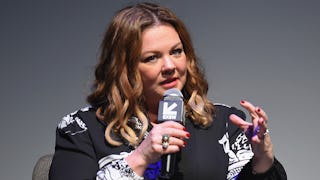 Image via Michael Loccisano/Getty Images
Melissa McCarthy rode a motorized podium through NYC
The only good thing about our current administration is the Saturday Night Live skits it's inspiring. We thought no one could beat Alec Baldwin as Trump, that is — until we saw Melissa McCarthy as White House Press Secretary Sean Spicer.
God, she's good. We have to laugh to keep from crying, and she's helping us all with that. It looks like this week's SNL is going to be epic, if the video some onlookers caught of McCarthy riding through the streets of NYC on a motorized podium is any indication.
Buzzfeed News reports that McCarthy rode through rush hour traffic dressed as Spicer.
We had to know that this weekend's show was going to be epic, right? Sean Spicer actually hid in the bushes to avoid reporters after news broke that Trump fired F.B.I. Director James Comey this week. Oh, sorry — he wasn't "in" the bushes, he was "among" them. That's literally the correction White House representatives sent the Washington Post this week after they published a story about the bushes incident.
McCarthy is really getting into character. Here's a video she posted to her Instagram account, in full costume, about the "bushes" snafu:
And here is a video of her getting into full Spicer costume:
And one more glorious look of her, riding through the streets of NYC:
Oh, Melissa. What would we do without you?
This article was originally published on