Men And Miscarriage: When All You Want Is To Fix Things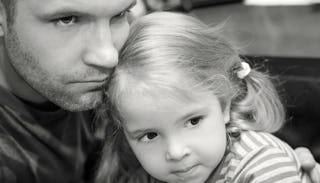 Sokolova Maryna / iStock
I am a dad of daughters. I know nothing but pink hair bows and baby dolls and Frozen songs. One daughter is a lot like me: blue eyes, laid-back, and could spend all day reading. Our younger one is like her mom: olive skin, determined, and a bit feisty. Our family of four has been just that for a little over five years—me, the dad, and a house of females (yes, even our cat Coco is a girl).
Before my girls were born, friends would tell me that I needed a son, someone who would look, act, and talk like me. Someone who would love sports and yard work and video games just like me. But after the birth of our second daughter, I relegated myself to a reality that I was destined to be a dad to daughters. Because surely one of them would understand the thrill of opening day baseball and watching the Braves play. One of my girls would unquestionably give up ballet flats and tiaras for soccer cleats and three-point shots. But so far, no luck.
So I'd be lying if I said there wasn't a flurry of anticipation for what could be when my wife told me in early September last year that she was pregnant. I envisioned the possibility of a son. Would we name him David? Bo? Chipper, after one of the greatest Braves players ever? My head was cautiously spinning at the idea that in nine months, we could be, might be, bringing a boy into our home.
No sooner had I conjured up the various toddler-sized sports jerseys I would purchase for our unborn son (or maybe daughter) than my wife confirmed to me her fears: She was having a miscarriage.
We both felt numb. Here we were, not even a week gone by from knowing of my wife's pregnancy, and the baby was gone. Long before we had time to tell anyone. Long before the chance to debate if we would find out the baby's gender or not. Long before we needed to think about diapers and bottles and colors to paint the nursery.
Why was this happening? We live in a nice house five minutes from the grandparents. No situation could be more perfect to bring another child into. We even got a minivan. What else could scream "Family of Five" more than that? My wife was hurting. I wasn't sure how I was feeling, to be honest.
We hear a lot about miscarriage and how it affects women, and it's no secret that the grief it brings to a woman is often tenfold what it feels like for a man. But there are few support groups for men who feel the strange loss that happens after a miscarriage. There's little comfort in anything, and because we're men, we push any emotion that comes with infertility to the side, mainly because no one has told us how to cope with it. Or really, we're too ashamed to talk about it. Factoids like this wither us: "In approximately 40 percent of infertile couples, the male partner is either the sole cause or a contributing cause of infertility" (American Society for Reproductive Medicine).
We're men. We want to fix things. We want to be the strong ones who fill in the gaps when there's a need. We want to be the rock of our families, of our relationships. How does that work when we're not even capable of carrying our half-share in the reproductive process?
In October 2003, my wife and I experienced our first miscarriage. We were newlyweds, married for just three months at that time. Living in a one-bedroom apartment we could barely afford, we scratched our heads at how we could possibly raise a child when we could barely pay rent. It sounds strange to say it, but that first miscarriage came as somewhat of a relief. Three months of marriage just wasn't enough time for us to really get to know each other before diving headfirst into parenthood.
This miscarriage was different. We're older now. We've got two little girls who are respectful and caring and would love to help take care of a baby. We are ready in all possible ways for another child. This loss was not a relief. This one stings.
There's something about fatherhood that oozes masculinity. It's almost as if you prove your manhood by the fact that you got your wife pregnant. Goal accomplished. Another box checked on the "Man's To-Do List." Fair to say that when that goal isn't reached, a man can feel pretty down on himself. I'm not the only man who has experienced this, I'm sure. Many before have, and there are many yet to come. But we rarely talk about it. We don't get together for coffee and spill our feelings of inadequacy while passing around a tissue box. After all, we are men, and our need to be fixers of all things and tougher than nails overwhelms any sense of vulnerability.
But please, when you think about miscarriage, and all the sadness that envelops the hopeful women it affects, don't forget the men shouldering the burden also. They do exist, even if you never hear about them. They're there, working 50 hour-a-week jobs trying not to focus on infertility. They're there, in the factory, talking about football and cars but thinking about what fatherhood could be like.
Sometimes our little girls will ask us for a baby brother or sister, as if it were something to purchase from Toys "R" Us. My wife and I give that sympathetic grin to each other, and to the girls, a look saying: We want one too girls. We want one too. And whether or not it happens can't be predicted. But I'm not letting go of hope, and we won't stop trying. After all, I'm a man, and I aim to fix things.
This article was originally published on