We Need More Men Who Understand Feminism And Work To Elevate Women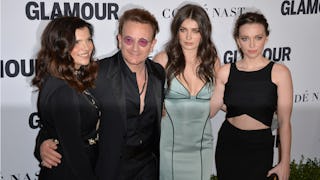 Featureflash Photo Agency / Shutterstock
I recently attended my first U2 concert in Seattle. It was quite impressive, as one might expect.
After they finished the Joshua Tree set and were brought back to the stage by 70,000 cheering fans, the band dived right into an activism-themed encore. I expected something like it, knowing that they'd always been avid spokespeople for various social and political causes.
I didn't, however, expect the focus to be on women. And I was blown away.
Bono spoke passionately about the "luminous women" who would change "history" into "her-story," and who would light the way for humanity. He talked about the vital role of women in advancing civilization and the crucial need for all of us to make sure we are doing what we can to elevate the status of women around the world.
The screen that spanned the width of the stadium lit up with photos and names of influential females, a montage of courageous and trailblazing "luminous women" from the past century. As they sang, "Baby, baby, baby, light my way," woman's face after woman's face took up the entire space of the stage's backdrop.
Though it wasn't mentioned, I noticed that the first dozen or so photos were of black women — Rosa Parks, Maya Angelou, Angela Davis, among others — and I smiled at the subtle nod to intersectionality. A mixture of faces of all races followed. Malala Yousafzai stood out, as she always does, for her youth. Michelle Obama received a rousing round of applause.
So many powerful, strong, unique women flashed on that screen, and I couldn't help but take note of how small the bodies of Bono and his bandmates looked on stage in front of them. The contrast felt planned, purposeful.
These four white, wealthy men of global influence used their stage to acknowledge the need for gender equality and to honor the role of women in our world. And for them, it's not just talk. They put their money where their mouth is through the ONE organization, which promotes the hashtag #GirlsCount and the slogan "Poverty is sexist."
I was bowled over by both the sincerity with which the message was presented as well as the complete lack of paternalism or condescension from the presenters. These are men who get it. They get it, and they're all in on fixing it.
We need more men like this.
We need men who get it.
Men who can look at history and clearly see how men ruling practically everything via the patriarchy has resulted in systemic patterns and societal expectations that have prevented women from reaching their full potential. Men who recognize that equality requires more than just saying, "I believe in equality." Men who see women as full partners in every realm of life — family, education, business, politics — and who strive to remove roadblocks to women being able to take advantage of opportunities.
As they went into the song "Elevation," Bono reiterated the need to elevate the status of women and girls and talked about how poverty disproportionately affects women. He was so passionate about the idea that women were the future. He never used the F-word ("feminism" seems to get raise people's hackles), but the message was distinctly feminist.
There's a reason Glamour honored Bono with their very first Man of the Year award at their annual Women of the Year Awards ceremony last year. And his response to the honor? "I'm sure I don't deserve it," Bono said. "But I'm grateful for this award as a chance to say the battle for gender equality can't be won unless men lead it along with women. We're largely responsible for the problem, so we have to be involved in the solutions."
Seriously. He so gets it.
The way I figure it, if Bono can speak out on behalf of women directly to a captive audience of 70,000, men everywhere can do their part to speak up as opportunities arise in their lives. When a co-worker makes a sexist joke, when legislation that affects women's health comes up, when it's time to vote on family leave policies, when a female friend mentions she's been harassed or worse, when someone complains about "whiny feminists" — there are so many chances to make it clear that you are an advocate for women.
Better yet, men who get it can be proactive and bring it up themselves. It's not like U2 was required to use their concert to promote the equality of the sexes. It's not like someone asked them to make a speech about it. They have a voice, and a platform, and they're using it for women.
I love seeing women speak out for equality, but there's something particularly powerful about men doing it. If we had a billion more men like Bono and his bandmates, our world would be a much brighter place for women — and therefore, naturally, for everyone else as well. We need men and women working together on this if we ever hope to achieve full equality.
This article was originally published on