Meredith Salenger Praises Patton Oswalt's Late Wife And Twitter Is Loving It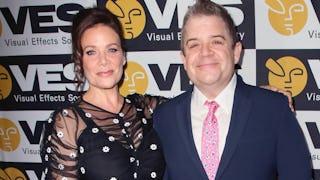 Image via David Livingston/Getty Images
Meredith Salenger praises husband Patton Oswalt's late wife in series of tweets
Patton Oswalt lost his wife, writer Michelle McNamara, unexpectedly in April 2016 and collectively broke our hearts with his words about the grieving process and learning to live without her. That's why news of his marriage to actress Meredith Salenger warmed us all — because the man deserves to be happy.
To add even more light to their beautiful love story, Salenger recently tweeted incredibly kind things about Oswalt's late wife — and the internet is absolutely loving it.
Before her untimely passing at just 46, McNamara was in the middle of researching and writing a true crime novel about the Golden State killer called "I'll Be Gone in the Dark," which was published posthumously and includes an afterward by Oswalt. He's been working to promote the book, which came out this week, and Salenger has nothing but support for both him and McNamara's work.
Salenger writes, "I'm so proud of @pattonoswalt watching him honor his beautiful and brilliant late wife #MichelleMcNamara promoting her incredible book #IllBeGoneInTheDark at amazing venues like the @nypl. It is a testament to his love for her and his belief in her talent. I'm in awe. #beautiful"
Is someone chopping an entire bag of onions in here? Because, wow. This woman is full of a grace and love most humans will simply never achieve, and Twitter is definitely taking notice.
And Salenger responded to some of the praise with the kindest and most humble words — plus, a little humor.
https://twitter.com/jetpack/status/968999101156114432
Some pointed out that McNamara would be proud of Salenger, and we can't disagree.
https://twitter.com/jetpack/status/969008222857285634
When told she's an "amazing wife," Salenger answered accordingly.
Sigh. It's just too much.
On the one-year anniversary of McNamara's passing, Oswalt wrote a heartrending Facebook post about the process of grieving her loss. "It's awful, but it's not fatal," he wrote. "That's the dispatch I'm sending back from exactly one year into this shadow-slog."
It's clear now part of the reason this monumental loss wasn't "fatal." With Salenger's love and support, Oswalt is able to have joy and a partner in life once again while still honoring McNamara's memory. And it's beautiful to see.