These Mermaid Gifts Are Perfect For The Ariels In Your Life
by Team Scary Mommy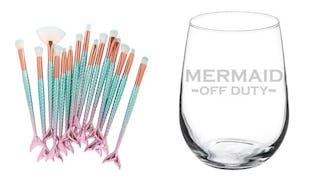 Image via Walmart
These sparkly mermaid gifts will deliver all of the under the sea magic
At a loss for what you should buy your best friend for the holidays this year? I'd like to turn your attention to some of the sparkliest, prettiest, comfiest mermaid-themed gifts out there. Your BFF will feel like Ariel in the best way possible (Flounder sadly not included).
It's getting so cold out there and that means snuggling under some of the coziest blankets. So many bonus points that this blanket is shaped like a mermaid tail and will make your best bud feel like the under the sea princess she is.
Do you have a BFF who's obsessed with makeup and could use a little mermaid magic in their lives? Go with this 15-piece brush set. It's super handy and just look at that sea foam green and pink fish tail design. Swoon.
And if you're going to get those mystical brushes, you might as well snag a mermaid-themed make up bag to put it all in. Helloooo turquoise sequins.
Give the Ariel in your life the ultimate dreamy self-care experience with this mermaid bath bomb. It has a sea salt citrus fragrance and will turn the bathtub into a pink/orange swirl wonderland.
RELATED: How To Make Ahhhh-Mazing Bath Bombs For Gifts… Or Your Own Spa Days!
And while your BFF is taking the world's best bath, they might as well light up a mermaid candle. It smells like pineapple, dark rum, vanilla, and pure bliss.
This mermaid pillow will add a touch of enchantment to any living room. It's also a pretty good reminder that everyone should be listening to "Part Of Your World" on repeat, at all times.
No self-respecting mermaid should drink her wine out of any old glass, even when she's not in full mermaid regalia. Try these stemless ones that tell the world exactly what your BFF's real profession is.
Speaking of wine, this sign pretty much says it all for the BFF in your life who know how to get down, mermaid-style.
Your bud should display their bad mermaid selves at all times. This cell phone case will do all the talking for them.
Your best friend's holiday just got so much more enchanting. Even Ursula would (maybe) approve.
We are a participant in the Walmart.com Affiliate Program and may earn fees by linking to Walmart.com and affiliated sites.
This article was originally published on