'They' Was Just Named Merriam-Webster's 2019 Word Of The Year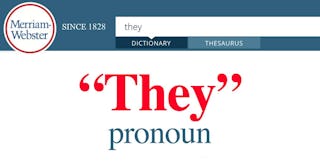 Scary Mommy and Merriam-Webster.com
They, the unassuming pronoun, is now Merriam-Webster's word of the year
"They" might seem like a simple word, because it's one that we've all known and used for our entire lives. But now, that unassuming pronoun has an exciting title: It was just named Merriam-Webster's word of the year.
The dictionary company just announced that searches for the definition of "they" spiked by 313% in 2019, which landed this word in the top spot.
"I have to say it's surprising to me," Peter Sokolowski, a lexicographer and Merriam-Webster's editor at large, said. "It's a word we all know and love. So many people were talking about this word."
Normally, the words that get this title are words that the public can't stop talking about (or looking up the definitions for). Last year's word was "justice." The year before that, "feminism." In the last couple decades, the list has included words like "science," "culture," "socialism," "bailout," "blog," and "w00t."
"They" entered the spotlight as the identifying pronoun of choice for a number of transgender, binary, and gender nonconforming people. Sokolowski said he and his team got an early tip that searches for the pronoun would be up this year when they spiked in January, after trans nonbinary runway model Oslo Grace started to become a household name.
Then, in April, even more people started to search online for "they" after Democratic U.S. Rep. Pramila Jayapal spoke during a House committee hearing to advocate for LGBTQ+ rights, revealing that she has a gender-nonconforming child.
And in September, another big search spike came when singer Sam Smith posted on social media that their preferred pronouns were "they" and "them." Smith's Twitter thread also said that they came to this decision "after a lifetime of being at war with my gender."
After those events, Merriam-Webster updated the official definition of "they," reflecting its use as a pronoun to identify a person whose gender identity is nonbinary. Just a few months ago, the American Psychological Association released its most recent style guide for scholarly writing, which endorsed "they" as a third-person pronoun, something many other style guides still say is unacceptable in print.
Suffice it to say, this little word has had a big year.
What words did "they" beat out for the top spot? Also in the running for 2019 word of the year were "quid pro quo" and "impeach," for pretty obvious reasons. Merriam-Webster also reported a big spike in searches for "crawdad" while Delia Owens' novel "Where the Crawdads Sing" was at the top of the best-seller list.