Meteorologist Brings 'Special Guest' To Work To Promote Baby-Wearing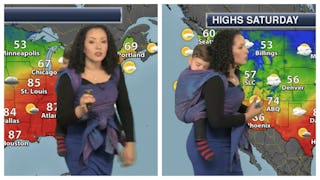 Image via Facebook/Praedictix
This meteorologist mama and her sweet co-host will make your day
It's International Baby-Wearing Week, a week-long advocacy event that promotes awareness of babywearing through local and online celebrations, media, and education. One awesome mom decided to participate in an amazing way — by wearing her baby to work. Even more awesome? Her job is slightly…unconventional, and her baby is completely over it in a video that's now gone viral.
Praedictix meteorologist and mom Susie Martin strapped her snug, sweet son onto her back and brought him out with her to do the day's forecast. The best part is her special "co-host" wasn't exactly impressed with his mom's incredibly cool job.
"Meteorologist Susie Martin and a special guest host your national forecast today," the video caption reads. "Unfortunately, her assistant was found sleeping on the job… We apologize for the inconvenience."
Listen, if I was that cozy and snuggled up to my loving mom like he is, I'd be hard-pressed to maintain consciousness too.
According to babywearingweek.org, medical professionals agree that infants thrive through touch; and "wearing" your baby is a great way to meet this need. The benefits of baby-wearing — to both parents and babies — are many. Babies who are "worn" regularly tend to cry less, are less nervous anxious and allows baby and parent to become attuned to each other's movements, which results in increased reciprocal confidence between both.
Beyond those benefits, I remember loving that I had two free hands to get things done. From working on my computer to shopping at Target, wearing my daughter throughout her infancy (until she was walking and wanted nothing to do with being carried, worn, or strolled) gave her the security of my embrace while offering me a little independence without having to put her on the floor or in a baby swing all the time.
People on Facebook were quick to offer their support to Martin and her adorable little co-host.
It's always wonderful to see a workplace like Praedictix that embraces the moms they employ — something that, even in 2018, is rarer than it should be. Major applause to Martin and her sweet, sleepy son for a job well done.
This article was originally published on