Meteorologist Claps Back At Body-Shaming Viewer
by Cassandra Stone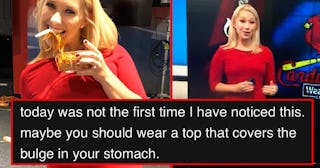 Tracy Hinson/Twitter
The St. Louis meteorologist says she's not going to "obsess" about her weight, regardless of body-shaming
A St. Louis meteorologist expertly clapped back when a viewer body-shamed her and told her to cover her "bulge." Tracy Hinson proved she feels it's more important to deliver accurate weather information and not worry about what she's wearing or how she looks in her clothes while on the job.
The viewer sent a direct message to the KSDR newscaster to criticize her outfit on-air that day and how her body looked in it. And the message alone will make you rage.
"Do you ever watch yourself giving the weather report? Seems that you need a girdle for the stomach overhang which shortens the front of your dresses!" the troll wrote and Hinson shared on Twitter. "Today was not the first time I have noticed this. Maybe you should wear a top that covers the bulge in your stomach."
Luckily, Hinson wasn't having any of it. She put the troll on blast when she responded via Twitter. "Dear Mary, yes I do watch my air checks. NO I will not be strapping myself into a girdle because you don't like my belly. I like pasta, bread and cheese too much to obsess over my weight. I like my body and that's all that really matters."
Perfection. No one, especially not public figures who make their living delivering news to viewers on television, should have to be subject to scrutiny and just plain cruelty like this. Wonder if Mary has ever sent a message like that to one of the male newscasters? Hm.
Sadly, this isn't the first time a female meteorologist has had to defend herself against viewer pettiness. Why does anyone feel they have the license to criticize someone's appearance simply because they're on television? The world may never know. But other women in the industry have responded similarly to Hinson.
Ashlee Baracy, a meteorologist in Ohio, got hit with emails earlier this year — while she was pregnant — from people who thought she looked "bloated and uncomfortable" and warned about her wardrobe not being able to "survive" her entire pregnancy. One guy, "Clay," even wrote in to tell her that she was "really putting on the weight" and attempted to concern-troll her cardiovascular health.
"I truly appreciate every #10TV viewer who has supported me and encouraged me throughout my pregnancy and let's hope by shedding light on body-shaming that fewer people will deal with critics like this in the future, pregnant or not," Baracy said at the time.
Prior to Baracy's incident, another pregnant meteorologist had to combat body-shamers who felt they had the right to comment on her on-air maternity wardrobe. Kelsey McEwen, a Canadian newscaster, was also not here for it and publicly called out the viewer via Twitter.
The emotional labor these women have to endure to put trolls on blast for shaming them is, quite simply, awful and unfair. Public figures are not automatic punching bags fit public consumption — especially not women, pregnant or not. And remember, if you're cruel and rude enough to shame a public figure, you deserve to be called out in a public fashion. Period.
This article was originally published on