Videos And Photos Show Devastating Aftermath Of Mexico's Strongest Earthquake In 100 Years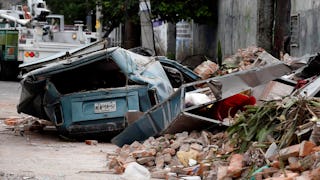 Image via ALFREDO ESTRELLA/AFP/Getty Images
People fled their homes during the night as the earthquake reduced buildings to rubble
An earthquake with a magnitude of 8.2 hit the Pacific coast of Mexico yesterday, killing dozens of people and destroying areas of the southern part of the country in a matter of minutes. It's the strongest earthquake to hit the region in a century, and videos and pictures of the quake and its aftermath are simply stunning.
The New York Times reports that at least 32 people have been reported dead so far as a result of the quake, with millions of Mexico City residents affected by its "violent" tremors. Over 50 million people across Mexico felt it with citizens running out into the streets in the middle of the night. Both the tremors and loud alarms roused them from their sleep, and some caught video footage of the natural disaster as it occurred that you need to see to believe.
Lamp posts along the highway were swaying from the quake's power.
Homes were literally split in two by its force.
The quake caused chaos at a bowling alley in Tuxtla Gutierrez, while others fled from their homes amid the tremors.
There's haunting footage of offices and homes shaking, items crashing to the floor and light fixtures swaying like they weigh nothing.
Even Mexico City's Angel of Independence monument was rocked by the quake's tremors.
But there are also images of hope, like one resident raising the Mexican flag among the rubble of what might have been his home.
The Mexican Army was on hand to survey the damage and help anyone trapped by the quake.
Buildings were partially or totally destroyed in only a minute or two. The widespread devastation is simply unreal.
The Times reports that schools in 10 Mexican states and in Mexico City are closed today while the damage is being assessed. The National Seismological Service noted several aftershocks once the initial quake was over, and they can cause a lot of devastation as well.
Juan Antonio García, the director of a local news website, Cortamortaja, tells the Times that Juchitán, the city that appears hit hardest, lost its regional hospital, a church dedicated to their patron saint, and their city hall. All collapsed in the wake of the quake. He says it's too soon to fully know the extent of the damage, but it's not just city buildings that fell. "Countless houses have collapsed," he adds.
Although the images and reports are shocking, President Enrique Peña Nieto sounds relieved it wasn't worse. "We are assessing the damage, which will probably take hours, if not days," he said, only hours after the quake ended. "But the population is safe over all. There should not be a major sense of panic."
This article was originally published on