Michael Bublé Announces 3-Year-Old Son's Devastating Cancer Diagnosis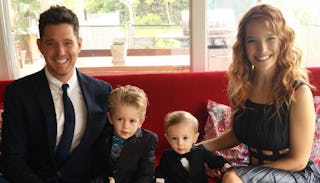 Image via Instagram
3-year-old son of singer Michael Bublé has been diagnosed with cancer
There isn't a single parent alive, famous or not, that doesn't fear for their children's health and safety. None of us ever wants to confront the reality that one of our kids is sick, but that's just what singer Michael Bublé and his wife, Luisana, are facing today.
Their eldest son, Noah, was diagnosed with cancer. He's three fucking years old. Fuck cancer.
A story on Buzzfeed shares the couple's statement, in which the singer asks for privacy as he and his family fight this battle.
According to BuzzFeed, the Argentinian newspaper La Nacion reported that Noah was initially taken to the doctor for a suspected case of the mumps and was subsequently diagnosed with cancer, every parent's worst nightmare.
As Bublé said in his post, "We are devastated about the recent cancer diagnosis of our oldest son Noah who is currently undergoing treatment in the US. We have always been very vocal about the importance of family and the love we have for our children."
It seems clear that this isn't a family that will take this situation lying down. Noah's cancer is in for a fight.
The battle won't be easy, especially since childhood cancer research is woefully underfunded. The St Baldrick's Foundation states that only 4% of cancer research is devoted to childhood cancer, despite the fact that, according to Dr. Eugenie Kleinerman, head of the division of pediatrics at the Children's Cancer Hospital at M.D. Anderson Cancer Center, "Curing childhood cancer is the equivalent of curing breast cancer in terms of productive life years saved."
Bublé and his wife are putting their careers on hold to tend to their son, and expressing hope that, with the "support of family, friends and fans around the world, we will win this battle, God willing."
Recently, the singer had expressed his joy at being a dad, telling Entertainment Tonight, "The only regret that I have in my life is that I took this long to have kids, because I had no idea the perspective it would give me. I had no idea how much I would love being a dad."
And now he has to face that hardest battle any parent could imagine. Hopefully, that love will be enough, and his son will pull through.
[free_ebook]
This article was originally published on