Michael Jordan Funds Two Clinics To Serve The Uninsured In Charlotte
by Julie Scagell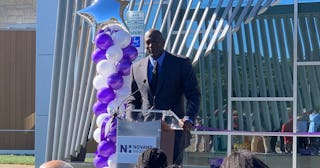 Novant Health
Michael Jodan funds two healthcare clinics to serve the unisured in Charlotte, North Carolina
Basketball legend and Charlotte Hornets owner Michael Jordan has funded two healthcare facilities that will offer care to underinsured and uninsured patients in the Charlotte, North Carolina area. The six-time NBA champ unveiled the first of two medical clinics, each with the goal of serving the underprivileged in the community.
"The Novant Health Michael Jordan Family Clinic will provide vital access to primary and preventive care to individuals in the community, including those who are uninsured or underinsured," the organization said in a press release. "The clinic will also offer additional comprehensive care, including behavioral health and social support services, to more directly address health equity gaps and social determinants of health in our communities." The clinic will take scheduled and walk-in appointments Monday through Friday.
Jordan donated $7 million to Novant Health back in 2017 and was seen crying on opening day. "As you can see, it's a very emotional thing for me to be able to give back to a community that's supported me over the years," he said through tears at the unveiling on October 17, 2019.
The 6,800 square-foot-facility is equipped with 12 exam rooms, an X-ray room, and a physical therapy space. There will also be a full-time social worker on staff to provide support to patients. "This clinic will not only provide access to medical care for those who need it most, but it will connect them to resources to ensure their health extends beyond the doctor's office," said Carl Armato, CEO, and president of Novant Health.
The clinic is located in a lower-income neighborhood with a high need for low cost, high-quality healthcare. "I believe that your ZIP code or neighborhood should not determine the quality of your health care — or whether or not you can even get care at all," Jordan added in a statement. The clinic employees are also all Charlotte-area citizens.
"The community is embedded into the very foundation of these clinics," said Armato. "I know how important that is both to Michael Jordan and to Novant Health. We want the community to know that we're not just here when they're in crisis or in need of urgent care. We're here for the long haul."
During his speech, Jordan vowed to do more in the city, saying, "I can only do this in gratitude…I can never repay what you've actually given to me, but this is a start…This is just the start of a battle of being able to touch as many people as we can."
According to The Wall Street Journal, there are approximately 27.5 million people without health coverage in the U.S., which is roughly 8.5 percent of Americans, making clinics like these a high priority. We are grateful that Mr. Jordan is using his wealth to provide healthcare for the community, if only our government was able to do that.