Michael Phelps Hated Water As A Kid, So Don't Lose Hope, Parents
by Mike Julianelle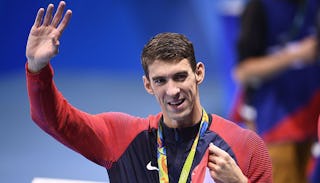 Image via Martin Bureau/Getty Images
Michael Phelps' confession about his childhood hatred of water will make any parent feel better
Finally, a little hope for parents with late bloomers! Michael Phelps, fresh off his fourth Olympic games, 28th medal – 23 of them gold – once hated water.
"It's wild to kind of think about how far we've come," he said in an interview with ESPN. "From my mom putting me in the water safety — I hated the water. I didn't want anything to do with it. I learned on my back."
Every parent has been faced with the frustrating task of trying to coerce a tentative or straight-up terrified kid into doing something a little sooner than they are willing. In many cases, those are things the kids will end up excelling at, even loving. But it's impossible to tell an obstinate five or eight or even 12-year-old that he's going to enjoy doing something that currently scares the bejesus out of him.
It doesn't matter if it's playing baseball, sleeping overnight at a friend's, eating sushi, or wiping their own butt. Once they decide it's not for them and dig their heels in? Good luck getting your kid to budge.
Now, thanks to Michael Phelps' typical past and extraordinary present, parents everywhere have the ultimate example to point their kids to when they're reluctant to, ahem, dive in.
I just got back from a week at the beach with my five-year-old, and have spent many summer weekends visiting grandma's pool, and despite my son's fondness for the water, I can't get him to dunk his head. Nothing I say seems to work, from "it's so fun!" to "it doesn't hurt, I do it all the time!" But now that the real-life Aquaman himself admits to being a bit reluctant to take to the water, I have the perfect carrot to dangle.
Obviously, Phelps overcame his trepidation and soon took to the water like the world's fastest, most abbed-up fish of all time. And now he's passing that love of the water down to his son, Boomer, who made a splash of his own in Rio.
Here's hoping that my son – that all of our young kids – makes the same strides the most dominant swimmer in the world made and eventually overcomes his fears and gives diving in the pool a shot. So much of parenting is guiding your children through rough patches and helping them get over hurdles. Sometimes our enthusiasm can push us to push them past their comfort zones. Sometimes that works wonders, but sometimes it backfires.
That's not likely to change, but at least now, thanks to Michael Phelps, we have a success story for the ages.