A 13-Year-Old's Bakery Business Is Feeding Those In Need One Cupcake At A Time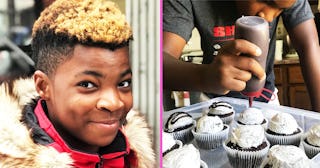 Michael Platt/Instagram
Michael's Desserts one for one cupcake business is feeding those experiencing homelessness
13-year-old Michael Platt of Bowie, Maryland is the proud owner of Michael's Desserts, a one for one philanthropic bakery. For each cupcake, cake, macaron, or cookie sold — Michael donates a treat to someone experiencing homelessness. According to his bio, Platt decided to create the bakery because he's "passionate about ending inequality [so] I tried to do something about it… I decided to take on food inequality. As I see it, food is a right, not a privilege."
Platt appeared on season four of the Food Network competition series Kids Baking Championship when he was 11, and we can't wrap our head around the fact that a middle-school kid is the brain child behind these elegant treats.
https://www.instagram.com/p/BthMFvhlM4w/
Although we think Michael's Desserts and his charitable mission is delightful and encouraging, he has encountered naysayers who think cupcakes don't end hunger.
"In my opinion a cupcake can do a lot!" he wrote on Instagram. "I've seen a cupcake inspire smiles, tears, amazement, joy, satisfaction, happiness and other private emotions that I won't share out of respect for people's dignity. I've passed a cupcake to someone sitting with all their possessions in a shopping cart and had them tell me that this one simple act gave them hope…That's why I give away cupcakes."
According to The Washington Post, he sells about 75 cupcakes a month and is able to give 100 treats away, which he drops off twice a month at shelters and other homeless areas in need. However, Platt told us he hopes to scale his business and feed even more people.
"I do have goals to increase my cupcakes," Platt tells ScaryMommy. "My parents and I have been looking for a shared kitchen space for a few months. I hope to be able to increase my capacity by the fall of this year!"
Not only does Platt feed his community with sweet treats, but every month he honors a different Freedom Fighter by creating a cupcake in their name. This month's carrot, pistachio, and spice cupcake is in honor of "Malala Yousafzai and her work to be sure that everyone who wants an education can have an education."
https://www.instagram.com/p/BzUMmXpHryl/
Anytime the news feels overwhelming and the world seems to be in a constant state of chaos, take a break to remember that social justice warriors like Platt are out here, making the world a better place, one cupcake at a time.