Preschoolers Dress Up In The Obamas' Iconic Inauguration Day Looks
by Madison Vanderberg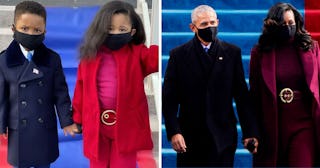 its_allry/Instagram and PATRICK SEMANSKY/Getty
4-year-old Ryleigh Hampton dresses up as Michelle Obama at the 2021 Inauguration
On January 20, 2021, Joe Biden and Kamala Harris were sworn in as the 46th President and Vice President of the United States. It was a historic day for many reasons, one of them being, it was the moment Mrs. Michelle Obama walked down the steps of the Capitol in a look I can only describe as absolute American royalty. Dressed in head-to-toe monochromatic purple with a statement gold belt, she inspired fashionistas everywhere, including one 4-year-old from South Carolina.
After the Obama's Inauguration Day appearance, Ryleigh Hampton and her BFF Zayden Lowe cosplayed as tiny Michelle and Barack and nailed the look so well that Mrs. Obama herself shared the photos online.
Ryleigh's aunt Zoe Hampton told NBC News the Obama entrance at the Inauguration was a jaw-drop moment for the family and knew that her niece Ryleigh would look absolutely adorable if they could recreate Michelle's winter look in something to fit a four-year-old. Thanks to Ryleigh's grandma, who got Ryleigh's mini-Michelle look together, they recruited little Zayden to play the part of Barack and posed for the photos outside the Florence County Library in South Carolina as a stand-in for the Capitol building.
https://www.instagram.com/p/CKr4BA_B3cg/
When Michelle shared the photos on Instagram, writing "you nailed it," Ryleigh's family was over the moon.
"When Michelle shared this post we were absolutely in shock," Ryleigh's aunt Zoe Hampton tells Scary Mommy. "We always jokingly said, 'What if Michelle Obama actually saw this' and to see her not only see the photo, but to also recognize Ryleigh and Zayden's name on her post was more than we could've ever asked for."
"We are so grateful that she took time out to say that we did a good job recreating her classic look," Zoe continued. "Everyone, including Ryleigh and the rest of the her family were beyond excited and happy."
The photos are pitch-perfect and so adorable, and, Ryleigh's mini-political dress-ups don't just end with the Obamas. The four-year-old served up her take on the all-white pantsuit that Kamala Harris wore to her and Biden's victory event back in November.
https://www.instagram.com/p/CKH6m-0hfxV/
We love to see the kiddos take an interest in politics, a feat that wouldn't have been possible if it weren't for trailblazers like Michelle and Kamala showing little girls like Ryleigh that politics and pantsuits can be in their future too.
Excited to see what little Ryleigh dresses like next.