Michelle Obama Gives Young Girls The Advice You Wish Your Mom Gave You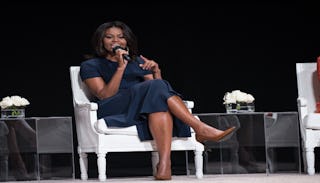 Image via Dave Kotinsky/GettyImages
Michelle Obama's commitment to causes concerning children is well-known. Over the course of her husband's presidency, she's made herself heard on a variety of topics centered on kids, including childhood obesity and education. To further one of those causes, she spoke recently at an appearance in Harlem reminding teen girls how crucial it is to focus on school. Her advice is so fantastic you'll wish you'd heard it in high school.
At a Glamour Magazine event at the Apollo Theater, Obama spoke of the shameful statistics surrounding girls and education worldwide. From The Root, she says "For me, this is personal. When I think about those 62 million girls that aren't in school, I think about myself. I think about my daughters." She went on to point out the importance of girls working hard in school during a time in life where young women may want to do anything but. "There is no boy at this age that is cute enough or interesting enough to stop you from getting your education."
While that's true and something I plan to drill home for my own daughter as she grows up, what she said next is the most wise advice for teen girls you'll possibly ever hear. "You don't want to look back when you're 60 and regret that you just didn't have the patience to push through these four years of mess. You'll have opportunity, and you'll have control of your life to make choices. And you won't have to listen to your parents, because you'll have a job and you'll pay your own bills. You want that freedom. Freedom comes later. Now you invest. Now you put up with. Now you be patient. Because if you don't do it now, then you'll be living this cramped-up life for the rest of your life."
Michelle Obama needs to write a book on raising teen girls because her wisdom apparently knows no bounds. It can be so tough for a young person to see the forest through the trees and while high school may seem like it never ends, it does. And the choices a teen makes during those years can impact the rest of their lives. I wish someone had sat me down and explained it that way. My focus wasn't always where it should've been in high school and as a result, I struggled and went to a lesser college. It's hard for a teen to really look ahead and imagine their future as a grown-up with a job and paying bills. It can be nearly impossible to understand the lasting effects their conduct in high school could have on adult life. Obama's advice is perfect in that it can help girls see that school life is temporary, but how you do in school can affect you forever.
During an appearance this week on The Colbert Show, Obama affirmed her commitment to the cause of girls and education, even after her husband's presidency ends. This is wonderful news, since she has a lot to contribute and could affect real change for young women in this country.
This article was originally published on