Michelle Obama Surprises People Reading Goodbye Messages To Her, World Cries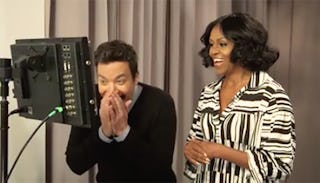 Image via The Tonight Show
Jimmy Fallon surprises people reading goodbye messages to Michelle Obama — with Michelle Obama
It's January 12, and we're days away from ushering in a new President and First Lady. This is definitely the time in a relationship when we realize we haven't appreciated someone enough, as they're walking out the door. We're all figuratively holding on to Michelle Obama's ankles, on the floor, screaming "Please don't go!"
Michelle Obama wrapped up her last late night appearance last night, on The Tonight Show With Jimmy Fallon. The show asked people to read goodbye letters to a portrait of the First Lady. Of course, there was a twist. And tears.
"We asked regular Americans to record a video message saying goodbye to First Lady Michelle Obama," a caption on the video reads. "What they didn't know was that FLOTUS was right behind the curtain, waiting to surprise them."
No matter what our politics, it seems everyone can agree — Michelle Obama has been a symbol of strength, hope, intelligence, and grace. And we're going to miss her.
Will we ever stop crying? No one knows the answer to that yet.
This article was originally published on