Michelle Obama Urges Self-Care With Inspiring Gym Photo
by Leah Groth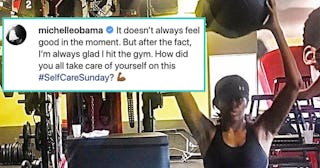 Michelle Obama/Instagram
Former First Lady Michelle Obama offers up some self-care inspiration in a recent photo from one of her workouts
During Michelle Obama's reign as First Lady of the United States of America, the classy-to-the-core former attorney made it her mission to educate the country about the importance of health, nutrition, and fitness — especially for children. Now retired from her civic duty, the 55-year-old is still inspiring the nation when it comes to self-care. Over the weekend, the best-selling author of "Becoming," shared a photo from one of her workouts, and it might be what you need to dedicate some time to yourself this week.
"It doesn't always feel good in the moment," she captioned the snap of herself doing a lunge while holding a ginormous medicine ball. The former first lady was in a sports bra and workout pants, totally focused on her movement.
"But after the fact, I'm always glad I hit the gym," she wrote. "How did you all take care of yourself on this #SelfCareSunday?"
In July, Michelle spoke out about the importance of self-care at the Essence Festival in New Orleans, urging women to put their health first.
"We [as women] have to own our health. It's one of these things that no one can take from you," she said.
"When it comes to our health as women, we are so busy giving and doing for others that we almost feel guilty to take that time out for ourselves," she continued.
"A lot of mothers will understand this, because I found myself looking around after I had my kids, and I didn't have time for me, but my husband was at the gym every day. And I was like, well, how are you going to the gym? He was like, 'I make time for the gym.' I was like, what?"
She concluded by explaining the importance of making ourselves a priority — if not just for ourselves, then to teach our children to do the same.