Michelle Obama And Her Mom Talk Parenting On Podcast Season Finale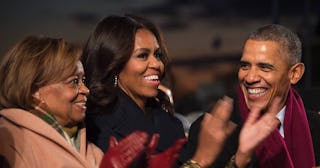 Getty/ Jim Watson
Michelle Obama chats with her mom about raising self-reliant kids in the season finale of The Michelle Obama Podcast
Barack and Michelle Obama have raised two daughters in the White House who turned out to be fine young women and college students and if you're curious as to how Malia and Sasha Obama are so level-headed despite growing up in such extreme circumstances, it's all because of Michelle's mom Marian Robinson. In the season finale episode of The Michelle Obama Podcast, the former First Lady talks to her own mother on how you raise kids to be self-sufficient and self-reliant so that they're ready to take on the world.
In the episode, Michelle and her brother Craig Robinson chatted with their mom about her parenting methods, which included letting her kids be responsible for themselves at what Michelle called "a very early age."
"You expected us to be, responsible, for ourselves, at a very early age, um, setting our alarm clocks very early, I mean, making our beds, all that stuff," Michelle said. "You stopped waking us up, um, very early."
Marian Robinson even jokingly said to her kids when they were in kindergarten that "you can lay in the bed if you want, I already have my education."
Michelle says that her mom's self-reliant ethos gave her a sense of pride and responsibility, that she wasn't doing things out of fear of what her parents would say if she didn't obey. "That was also the beauty of you and dad. Is that you made our successes and our failures, our own. You know, you were always there for us, but, you, you believed that, you get good grades for you. Not for me," Michelle shared. "I always felt like, I'm getting up for me…it's not because my mom is making me do it, but she told me that I'm responsible for my education."
Michelle pressed her mom, asking how she was able to "let go" like she did, to which Marian said that she could bestow her kids with responsibilities like she did because she knew she was raising extremely smart kids (and as we know how Michelle turned out, she was).
"I think, first you got to realize, that, a two-day-old baby is a smart person," Marian shared. "…[My husband] decided you all were smart when I first got pregnant. It wasn't a question of whether or not, or maybe, he just decided he was having the smartest kids on Earth, and uh, that's the way I thought of you, I thought of you as people. Who could learn things. And I still say that about every single child."
https://www.instagram.com/p/CDPN99Agbpc/
"I think everyone is smart if their parents think they're smart. And treat them as if they're smart, and treat them with respect," Marian added.
Michelle says that this philosophy is how you raise smart babies into smart adults. "If you are looking for a child to be self-reliant when they're 21, 22, you have to make them practice that as early as 5… if you don't teach a kid how to wake up on their own when they're young and it's easy, yeah, you could be waking them up, for the rest of their lives, because you don't make them practice it."
https://www.instagram.com/p/CDd_BMrA0hW/
Michelle and her family talk about parenting, early childhood experiences with racism and the police, their relationship with their late father, and more in the finale episode of The Michelle Obama Podcast on Spotify, which drops on Wednesday, September 15, 2020.
This article was originally published on