The Obamas' Anniversary Tributes To Each Other Will Make You Believe In True Love
by Madison Vanderberg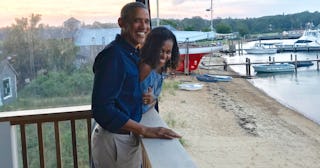 MichelleObama/Twitter
Barack and Michelle Obama showered each other with love on their 27th wedding anniversary
Barack and Michelle Obama celebrated their 27th wedding anniversary on October 3, 2019, and just like they do every year, the couple penned sweet love notes to one another on social media, and we are grateful for this second-hand swoon.
"27 years ago, this guy promised me a life full of adventure," Michelle wrote on Instagram. "I'd say he's delivered. Here's to our next chapter of becoming empty nesters and discovering what's next — while still feeling the magic that brought us together all those years ago. Happy anniversary, Barack."
https://www.instagram.com/p/B3KPC49gbqM/
Ugh, we love them. From that fateful law firm where they first met to the White House and now to their "next chapter of becoming empty nesters," we love to live vicariously through their beautiful marriage.
For his part, Barack shared the cutest photo of the two of them and captioned it: "Like the Beatles said: It's getting better all the time. Thanks, babe, for 27 amazing years!"
Our favorite thing about the Obamas is that they shower each other with digital love every year.
"Thank you [Barack] for 26+ years of love, trust, and respect – for being a man who always lifts up and honors me and our wonderful girls," Michelle wrote last year. "Each day I'm with you, I'm reminded of what a treasure you truly are to us all."
On their 25th anniversary, Michelle shared a photo from their wedding and called Barack "the most extraordinary man I know."
https://www.instagram.com/p/BZyd6fngoTA/
Honestly, these two celebrate each other year-round. Last May, Michelle shared this amazing photo from their totally '90s wedding alongside a sweet anecdote about her husband, because why not celebrate your awesome partner on a random day in May?
"You can't tell it from this photo, but Barack woke up on our wedding day in October, 1992 with a nasty head cold," Michelle wrote. "Somehow, by the time I met him at the altar, it had miraculously disappeared and we ended up dancing almost all night. Twenty five years later, we're still having fun, while also doing the hard work to build our partnership and support each other as individuals. I can't imagine going on this wild ride with anybody else."
On Mother's Day this year, Barack praised his wife, calling her "the most caring, brilliant, funny, and grounded woman I know — a perfect role model not just for our daughters, but so many others."
We also love their various social media shoutouts just to get a glimpse at their life away from the public stage. How rare to see the former First Couple just, living their life.
Congratulations to the Obamas on 27 years of marriage. Here's to 27 more!
This article was originally published on