Michelle Obama Opens Up About Her Miscarriage And Using IVF
by Thea Glassman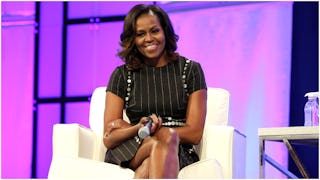 Image via Marla Aufmuth/Getty
Michelle Obama got candid about suffering a miscarriage and conceiving her daughters through IVF
It would be difficult to love Michelle Obama any more than we already do, but here's just one more reason. The former first lady opened up to ABC News anchor Robin Roberts about her struggles with conception and spoke about her experiences with a frank, refreshing honesty.
Obama discussed her fertility challenges in her new book "Becoming" and told Roberts that she felt "lost and alone" after experiencing a miscarriage about two decades ago.
"I felt like I failed, because I didn't know how common miscarriages were because we don't talk about them," she said. "We sit in our own pain, thinking that somehow we're broken. So, that's one of the reasons why I think it's important to talk to young mothers about the fact that miscarriages happen, and the biological clock is real."
Obama explained that she used IVF to conceive her daughters Sasha and Malia, realizing that "egg production is limited." By that point, her husband had joined the state legislature and Obama had to administer the shots herself.
The former first lady said that she's offering a look into this deeply personal part of her life in hopes that other women will feel less alone. "I think it's the worst thing that we do to each other as women, not share the truth about our bodies and how they work, and how they don't work," she said.
She also shared some honest, thoughtful words about her own marriage. Yes, she has a wonderful relationship with her husband. No, that doesn't mean it doesn't sometimes take work.
"Marriage counseling for us was one of those ways where we learned how to talk out our differences," she said. "I know too many young couples who struggle and think that somehow there's something wrong with them. And I want them to know that Michelle and Barack Obama, who have a phenomenal marriage and who love each other, we work on our marriage. And we get help with our marriage when we need it."
Yup, our love for this couple has officially exploded off the charts.
There's a whole lot of bad, awful news out there right now. Michelle Obama touring the country with her new book, offering kind, optimistic words of support is the exact kind of sunshine we need.